New Zealand Hawks ready to take flight in Melbourne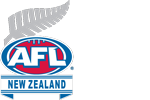 The New Zealand Hawks (the squad formerly known as the Falcons) – have named a dynamic squad for the upcoming AFL International Cup. The Hawks previously won the tournament in 2005 with a strong win over Papua New Guinea, however, running 2nd in 2008 was the last time the New Zealand side tasted Grand Final action although they have never placed lower than third.
With 2 completed seasons now of the AFLNZ Premiership – the domestic preparation has never been better. The squad includes a majority of players who took part in season 2 of the AFLNZ Premiership including a fair sprinkling of team of the tournament reps. There are a number of current Australian based players including Joe Baker-Thomas.
AFLNZ reports the head coach as Rob Malone with assistant's in Justin Davies and Chris Mundell. There are 14 players backing up after competing in the 2014 International Cup. The tournament is launched on Saturday August 5th with round 1 matches beginning the following day.
| | | | | |
| --- | --- | --- | --- | --- |
| Aaron Harris | Morningside Panthers | Brisbane | | |
| Adam Simpson | Springwood Pumas | Brisbane | Western Crows | Def |
| Andrew Howison | Oakleigh Districts | Melbourne | | |
| Andriu Sucu | North Shore Tigers | Auckland | Southern Saints | Def |
| Andy Christensen | South Melbourne Swans | Melbourne | | |
| Barclay Miller | St Kilda Saints | Melbourne | | |
| Ben Hick | University Blues | Auckland | Southern Saints | |
| Brandon Sucu | Wilston Grange | Brisbane | Southern Saints | |
| Brendan Clark | Maroochydore Roos | Brisbane | Central Giants | |
| Carlos Donnell-Brown | Waitakere Magpies | Auckland | Southern Saints | |
| Christian Blackie | Otago Hoops | Otago | Western Crows | |
| David Rattenbury | Waitakere Magpies | Auckland | Central Giants | Mid |
| Jackson Clince | North Shore Tigers | Auckland | Northern Suns | |
| James Kusel | Hutt Valley Eagles | Wellington | Northern Suns | Mid |
| Jay Johnson | Eastern Blues | Canterbury | Western Crows | Mid |
| Joe Baker-Thomas | St Kilda Saints | Melbourne | | |
| Josh Cunliffe | North Shore Tigers | Auckland | Southern Saints | |
| Josh Mackie | Otago Hoops | Otago | Northern Suns | |
| Liam Beattie | University Blues | Auckland | Northern Suns | Fwd |
| Michael Boyce | Mt Roskill Saints | Auckland | Southern Saints | |
| Misilifi Faimalo | North City Demons | Wellington | Northern Suns | |
| Peter Halstead | Eastern Bulldogs | Wellington | Northern Suns | |
| Samuel McKenzie | Mt Roskill Saints | Auckland | Southern Saints | Fwd |
| Shane Leat | Waitakere Magpies | Auckland | Western Crows | |
| Te Kopa Tipene-Thomas | North Shore Tigers | Northland | Western Crows | Fwd |
| Ty Smith | North Shore Tigers | Auckland | Western Crows | Int |
| William Dickinson | Mt Roskill Saints | Auckland | Northern Suns | Mid |
| William Gregson | Sandringham Zebras | Melbourne | Northern Suns | |
| | | | | |
| Emergencies | | | | |
| | | | | |
| Tim Stokes | University Blues | Auckland | Northern Suns | |
| Craig Morgan | Hutt Valley Eagles | Wellington | Central Giants | Def |