AFL announces final teams to compete for International Cup
Tuesday, July 18 2017 @ 07:02 pm ACST
Contributed by: Troy Thompson
Views: 1,428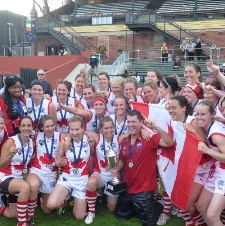 The AFL today announced the final list of nations set to compete in the International Cup. The competition will be split into two men's divisions before the tournament with 10 teams in Division 1 and 8 teams in Division 2. New comers to the International Cup will be Germany, Sri Lanka and Croatia in the men's competition. In the women's competition Great Britain, Pakistan and the European Crusaders combine team will make their debuts.
Making a welcome return to the competition after missing the 2014 International Cup are the PNG Flames women's team.
Teams that played in the 2014 International Cup men's competition that have not been able to get a team to the 2017 iteration are Tonga, Sweden and Finland. It was mooted at one stage that either a combined team of Denmark, Sweden, Finland and even Norway and Iceland might be an option, or a men's European Crusaders team - but neither of these were able to be assembled and funded.
Also the USA Liberty and Canada Midnight Suns teams that made up the numbers at IC14 will not compete in the cup this time around (though the USA Liberty team will travel to Australia and play a number of games against local sides).
The women's competition will have 8 teams competing for the first time.
The competing nations/teams are as follows