Finally IC17 to have multiple divisions from Round 1
Tuesday, July 18 2017 @ 07:30 pm ACST
Contributed by: Troy Thompson
Views: 1,376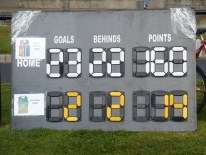 The AFL today confirmed that the men's competition for the International Cup will be split into two divisions. The top 10 finishing nations from IC14 (with Tonga not competing) have been automatically placed in Division 1 and the balance of teams will compete in Division 2.
It is hoped that the two division setup will avoid the massively one sided affairs between nations early in their development and the highly experienced nations that we expect to finish near the top of the final standings. This should produce more competition for the top sides and give the lower ranked sides more competitive matches that will hopefully ultimately aid their development rather than crush their spirit.
In the past it seemed that all nations wanted to be in the top division believing they were a realistic chance at the title, but it is understood that this time around more nations understand the vast gap between themselves and the top tier and have been happy with the decision to compete for the Division 2 title this time around.
The women's competition will remain as one division with eight teams competing for the title. It is hoped that in 2020 there will be enough numbers for a similar 2 division split.