Fiji set to come of age at IC17
Friday, June 23 2017 @ 10:35 am ACST
Contributed by: Dylan Wolfgramm
Views: 3,824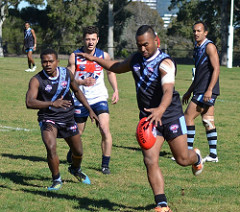 By Dylan Wolfgramm
AFL Fiji is set to take IC17 by storm with the naming of it's strongest team to date. The men's team otherwise known as the Fiji Tribe, will take part in their third consecutive International Cup since 2011.
With a core group of men who have been together since 2010, The Fiji tribe will look to build on its strong performances in their local competition and push for a birth in the Division 1 final. Speaking with Head Coach Simon Highfield, he was very impressed with the level of dedication the team had shown over the last couple of months "They are very fit and their skills have really improved, we under performed in past International Cups, so we are hoping to come of age this year."
Jiuta Vateitei and Meske Koroi has been the Tribe's best and most consistent performers, and will return to Melbourne with the Tribe on their back to ensure Fiji play finals.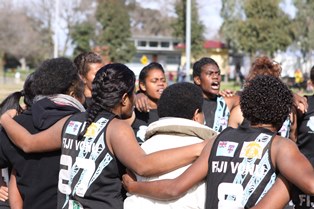 AFL Fiji will also be sending it's womens team in the Fiji Vonu for their second consecutive International Cup. The Siteri Tadrau lead side will aim to take it's game to the next level and show they mean business with experience from a core group of women who will return to Melbourne for their second time.
AFL Fiji has under-performed at previous outings and with the naming of their most experienced team's, look out for both the Fiji Tribe and Vonu to climb up the world rankings and cause a few upsets.
AFL Fiji Squad

Alipate Kiti,

Alipate Navuso,

Atunaisa Lewanavanua,

Dylan Wolfgramm

Filipe Valesu,

Isei Moses,

Isimeli Qiolevu,

Jeffery Pauli,

Jerry T,

Jonathan Macanawai

Jiuta Vateitei,

John Valetiri,

Josese Rokoli,

Kaiyava Davui,

Leone Maiqereqere,

Lorima Bativoli,

Mesake Koroi,

Nathan Wesley,

Nemani Waqa,

Nimilote Qio,

Penisoni Tuiova,

Pita Wilson,

Semesa Salavou,

Solomoni Cati,

Solomoni Navuso,

Sulio Magiti,

Yabaki Cakautini,

Laisiasa Karuya,

Peni Matewai,

Peni Turagabeci,

Roko Waqabaca,

Pate Seilawa,

Inoke Ratu