Japan Samurai International Cup 2017 Squad
Friday, June 23 2017 @ 05:15 pm ACST
Contributed by: Cam Homes
Views: 1,937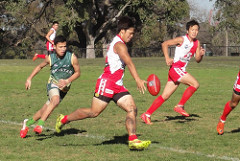 Today AFL Japan announced the Japan Samurai squad to contest the 2017 International Cup in Melbourne in August 2017. The squad announced 20/6/17 has an exciting blend of youth and experience look to it.
Once again the IC veteran Michito Sakaki (I believe this is his 6th IC) graces the squad with his experience and talent, which could well make him the only player in international footy to play in all the International Cups. Other IC veterans include Hisayoshi Oura, Toshiki Matsuhashi (4th IC), Yuosuke Kuno (suiting up for his 5th IC), Yuta Toyshima (played IC14), Jumpei Ito, Yuki Akita and Ryosuke Sato (each 2nd IC).
Amongst the IC debutantes there are some more players who can claim international experience, all having played for the Asia Lions against China in Shanghai in the curtain closer match following the Port Adelaide v Gold Coast match namely Shota Horijuchi, Kyo Nakagawa, Yuji Yamamoto and Yudai Yamaji along with Miticho Sakaki and Yusoke Kuno. New comers Riku Tokutake, Junpei Fujita and Shoki Mukodaka (Box Hill scholarship 2015) also toured Melbourne with the University Warriors in August 2016 along with Ito, Nakagawa and Yamaji.
The full Squad is listed below,
Hisayoshi Oura Tokyo Bay Suns
Toshiki Matsuhashi Tokyo Bay Suns
Kohei Kageyama Tokyo Bay Suns
Hiroo Kuroda Tokyo Bay Suns
Michito Sakaki R246 Lions
Yuta Toyshima R246 Lions
Tatsuya Nasu R246 Lions
Jumpei Ito Eastern Hawks
Kento Takahashi Senshu Powers
Shoki Mukodaka Senshu Powers
Satoru Udagawa Senshu Powers
Sohei Tada Senshu Powers
Shota Horijuchi Senshu Powers
Riku Tokutake Senshu Powers
Kyo Nakagawa Senshu Powers
Hiroto Murayama Senshu Powers
Yuji Yamamoto Tokyo Goannas
Yusoke Kuno Shonan Poseidons
Ryosuke Sato Shonan Poseidons
Satsuki Shimizu Komozawa Magpies
Yuki Tosu Komozawa Magpies
Junpei Fujita Komozawa Magpies
Taisei Matsumura Komozawa Magpies
Yudai Yamaji Komozawa Magpies
Yuki Akita North Gambier, South Australia
Congratulations to all squad members, and apologies for any spelling errors.