South African Lions IC17 Squad Named
Friday, July 21 2017 @ 07:56 am ACST
Contributed by: Wesley Hull
Views: 1,751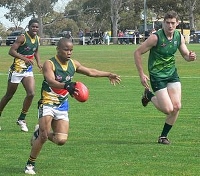 The South African team has been announced for the upcoming International Cup (IC17) in Melbourne next month. The national team has been a consistently well performed team at past International Cups, finishing 4th at the last event in 2014, 5th in 2011 and an all-time best performance of 3rd back in 2008. This new squad will be going all out to better those results and set a new benchmark for South African footy.
The team has a tough draw in the Division 1 pool. They open their tournament against Great Britain, then meet the USA and Fiji before a blockbuster clash against reigning champions Papua New Guinea before the finals.
The squad is:
1. Vuyisile Sokoyi-Blue Birds FC
2. Atang Moshoeshoe-Blue Birds FC
3. Denmark Baloyi-Warriors FC
4. Ncedo Tywaku- Blue Birds FC
5. Xolisa Dutyulwa-Blue Birds FC
6. Aubrey Velele -Blue Birds FC (Vice-Captain)
7. Thimna Bartman-Blue Birds FC
8. Banini Sekori-Wild Cats FC
9. Asanda Funda-Divines FC
10. Steven Matshane-Wild Cats FC
11. Jabu Mngomezulu-Divines FC
12. Emmanuel Mtomboti-Divines FC
13. Xolani Xaba-Hurricanes FC
14. Thato Manoto-Wild Cats FC
15. Kealeboga Mmasa-Wild Cats FC
16. Benefit Baloyi- Warriors FC
17. Luzuko Mlonyeni-Divines FC
18. Karabo Marokoane-Platinum FC
19. Msizi Mkhize-Hurricanes FC
20. Tshoboko Moagi -Warriors FC (Captain)
21. Scelo Tenza-Hurricanes FC
22. Mandilakhe Lungile-Divines FC
23. Godfrey Molohlanyi-Wild Cats FC
24. Uzenzile Gotyana-Wild Cats FC
25. Thembinkosi Zwane-Hurricanes FC
26. Malibongwe Mlamli-Divines FC
The team's Head Coach will be Benjamin Motuba. Tshoboko Boagi from the Warriors Football Club will be captain and Aubrey Velele from the Blue Birds Football Club will be vice-captain.
The players selected in the squad are representing the AFL South Africa clubs with 6 players coming from the Blue Birds FC, 3 from Warriors FC, 6 from Divines FC, 6 from Wild Cats FC, 4 from Hurricanes FC and 1 from Platinum FC.
South African footballer, Godfrey Molohlanyi, is one of many players to keep an eye on and is featured in a previous World Footy News article:
South Africa's Godfrey Making Waves