Bogota Bulldogs – South American Champions
Monday, July 24 2017 @ 07:49 am ACST
Contributed by: Wesley Hull
Views: 2,732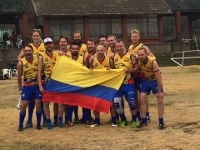 The champion Australian Rules football team in South America has been decided and the Bogota Bulldogs have managed to retain the Andes Cup and go back to back in their battle against the Santiago Saints from Chile. But the battle wasn't all one way as the Saints pushed a wasteful Bulldogs all the way, going down by just 17 points in front of their home crowd.
The final score saw the Bogota Bulldogs 9 15 69 defeat the Santiago Saints 8 4 52.
For the Bulldogs the win cements them as the very real permanent team in South America to accompany the years of hard work put in place by the Santiago Saints crew in Chile. Whilst the Saints would no doubt be disappointed to lose, the game against the team from Colombia marks a huge leap forward for Chilean football as the local club now has a genuine international competitor. That will, in time, lead to greater opportunities in all spheres of the game on and off the field.
The Bulldogs are very aware of how important the game was to future development in Colombia. On their Facebook page the club stated, "we really want to thank everyone involved who have supported our club. The fundraising campaign was a huge success and now puts us in a position to take-on our biggest and most important off-field challenge. Development of AFL in Colombia."
The clubs now get the chance to rest up and prepare for the new challenges of 2018 as the two national teams plot and plan for the new season. Both will continue to train over the coming months before setting their sights on the 2018 Andes Cup clashes. For the Bogota Bulldogs the new year provides the chance to consolidate their success. For the Santiago Saints there is the chance to promote the game on the back of the successful international games and to play their key card for 2018 – REVENGE!
The Andes Cup itself has now, because of the work of the two clubs, installed itself as a great international rivalry to be followed across the world. The event is testament to the work of the Saints and the Bulldogs to develop one of the last great hurdles for Australian Rules football – the growth of the game in South America.
Congratulations must go to the people behind the scenes at both clubs – as well as the players on the field – for making the Andes Cup happen.