Men's Division 1 - who wins?
Wednesday, July 26 2017 @ 11:58 pm ACST
Contributed by: Brett Northey
Views: 1,907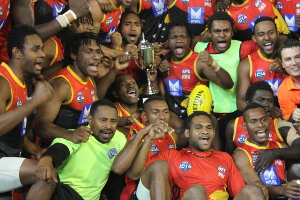 The following is a quick review of this author's thoughts on who might win the Men's Division 1 at the 2017 International Cup.
In terms of realistic prospects let's face it, there's the big 3 of PNG, Ireland and New Zealand, and then there's the rest.  That's probably a bit harsh, and South Africa and the United States probably deserve a nod too.  Between them, those 5 nations have filled the top 4 spots at all 5 international cups thus far.  Are there any new challengers?  I'm afraid not.
France and Fiji were first timers in Div 1 in 2014 and put up some good contests but were no match for the top sides.  They should be increasingly competitive against the middle Div 1 sides but the matches against the top teams may still expose a large gap. Aussie Rules is high scoring and merciless in exposing a difference.  Grabbing 1 or 2 wins each would be a great achievement.
Looking to the middle ranks of Div1 and Canada (juniors maturing), Great Britain (more regional teams) and the USA (metro leagues) have growing numbers to draw on and steady improvement is expected but probably not a major leap. Great Britain has a tough draw, while Canada and the USA face off in round 1 so probably only one will remain a Grand Final chance after that and will have to knock off one of the big 3 (PNG, Ireland, NZ) to make it.
Nauru are always dangerous but are probably limited by population size, I'm not expecting significant improvement.  But take them lightly and you'll get a scare on the scoreboard to go with a physical battering on the field.
South Africa were on a steep growth curve about 10 years ago but it appeared to plateau and although hard to get info out of there it seems that consolidation rather than major improvement can be expected. Without having seen the stats I suspect lack of height may count against them in key positions.
So I think once again the winner will be from the 3 that have shared the titles so far. Some of their qualifying games are against each other so whoever wins those matches will almost certainly march into the GF.
The Warriors, 2 time winners, runners-up last time. Ireland's strength ebbs and flows depending on how many players based in Australia they draw upon. The home league has shown some progress in introducing the game in Universities but this isn't likely to convert to International Cup improvement as yet. You never know when they might find 2 or 3 high quality Gaelic players to swap over which can make a huge difference, but given limits on how many can be drawn from Australian leagues I suspect the Warriors may not be quite as strong this time.
The Hawks, 1 time winners, 1 time runners-up. New Zealand have a lot of junior programs that should be bearing fruit now, and a lot of elite pathways. Sometimes these produce athletes who are raw in footy terms, but the various national programs and matches against touring Australian sides should see the Kiwis field a very strong side ready to contest the GF.
The Mozzies, 2 time winners, 3 time runners up. PNG have made every GF and are set to again. Their junior development remains strong and the league in Port Moresby is a high standard producing regular tough competition for the players. The only doubts continue to be key position size and composure with ball in hand as the Mozzies have tended to rush their work in the past.
The tip: NZ vs PNG in the Grand Final, going down to the wire, can't really split them, was going to say NZ with their key positions pulling in some key marks but a last second change of heart says PNG with their speed and run across the MCG to get them home. No, wait, PNG have a very tough draw playing Ireland, Nauru, USA and South Africa. They could easily drop one of those and even if they don't there might not be much left in the tank come the GF. New Zealand's draw is much kinder, so they are far more likely to even make the final and if it's against PNG look to their size and structure to overwhelm a brave but tiring PNG in the last quarter.
Of course with the draw having every team play 4 matches then the top 2 go into the GF, any slip likely eliminates a team from contention, and maybe even winning every match won't be enough with percentage possibly the separating factor. So something unexpected could catapult one of the less favoured nations into the decider.
More importantly, who do you think will win it?
 And don't forget our poll here.