Women's competition - who wins?
Thursday, July 27 2017 @ 07:10 pm ACST
Contributed by: Brett Northey
Views: 4,352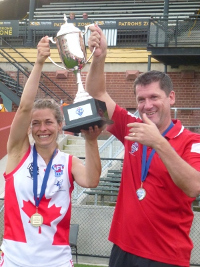 The following is a quick review of this author's thoughts on who might win the Women's Division at the 2017 International Cup.
Let's be honest, no one can really be confident about who will win this competition.  Sure we can (and will) assume that Canada will play off against Ireland again, but with new teams and women's international footy still so young and vibrant it's hard to be confident.  And that makes this event all the more exciting.
One expects the European Crusaders to struggle, with players drawn from very small leagues or one off teams across Europe.  But who can be sure they won't bond and forge something special on this trip?  And there's no history to tell us what the Pakistan Dragoons may produce, and we don't yet know how many of their players have experience in Aussie leagues.
The PNG Flames struggled last time they competed but that was 6 years ago, and with large numbers of men playing maybe the women have taken the game up in numbers too.
Great Britain have played well recently and could push for the top spots, though a loss to a Canadian developmental team dampens the thought.  Could the athletic Fijians rise instead?; They've probably improved but so will the top nations.
So for all the unknowns outside the top 3 it seems likely it will again come down to Canada, Ireland and the USA.  The North Americans have growing numbers and should be stronger than last time.  The unknown may be how many players with Aussie experience the Irish draw on.  If that number is up on 2014 they may be able to claim their second title.
But I'll play it boringly safe and tip Canada to narrowly defeat Ireland in a torrid final, every bit as physical as the impressive AFLW inaugural season. No, cancel that. Having fully appreciated the depth of Ireland after reading our preview I've got to lean towards Ireland squeezing home gaining revenge for their 2014 loss, with depth coming from the many new Irish women's team and of course lead by AFLW player Laura Corrigan Duryea.
(Speaking of AFLW, what a tragedy that the AFL has not made available an international rookie spot on each of the eight AFLW lists for the 2018 season.  It seems a no-brainer than would demonstrate a genuine commitment to growing the women's game internationally.  Costs are one argument but I have no doubt that there are 8 worthy international women out there who would leap, for free, at the chance for 6 months in Australia playing or training at the elite level, with the opportunity to pick up a professional contract the following year.)
So, who do you think will win the 2017 Women's International Cup?
Comments welcome and don't forget our poll here.