Player Profiles IC17 – Nagasauvulavula Sovuta (Fiji – Mens)
Tuesday, August 01 2017 @ 09:47 pm ACST
Contributed by: Wesley Hull
Views: 1,380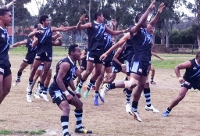 World Footy News will be highlighting as many aspects of the International Cup (IC17) as possible over the course of the event, including player profiles. First up is veteran Fijian defender, Nagasavulavula Sovuta.
1. Where is home and who is your home club?
My home is Ra but I'm living in Raiwai in Fiji. My local club is Raiwaiqua.
2. How many years have you been involved in Australian Rules footy?
I started playing football in 2011 and have been involved until now. I was also involved in the creation of the Raiwaiqa Bulldogs club. We won our first AFL Fiji premiership in 2014.
3. What is your favourite playing position?
My current playing position for the Fijian team is back pocket, but I love being in the centre/forward zone.
4. How will your team go at IC17?
From 2011 to 2014 and now in 2017 selections are tougher and the preparation is more organised though we are still struggling to get the team over to Australia for the event. We will be very competitive.
5. Which AFL club in Australia do you follow if any?
It is the Adelaide Crows