IC17 Preview: The Umpires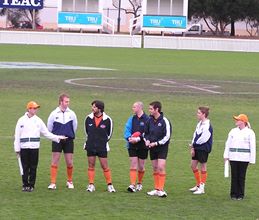 The unsung heroes of the game. The Umpires. The AFL have been able to organise a great group of umpires from across Australia to umpire at all five international cups so far. This one will be no exception and with these volunteers the game will on.
Lesser known are the umpires that have travelled from overseas to be part of the International Cup to boost the umpiring pool. But since at least 2005 been the case. Usually volunteering week in week out so that the game can go on around the world, the opportunity to come to the home of Australian football is a great reward for those that can make the trip.
Rick Shaibani interviewed Chris Adams*, an Aussie that has been part of footy in the US for many years about his upcoming stint as an International Cup umpire along with his son CJ who is very much an American. We also detail all the international umpires rostered for the competition.
*Chris is also a former World Footy News writer.
With the International Cup less than a week away, I recently had the pleasure to talk to one of the umpires, Chris Adams, who will be in Melbourne with his son CJ for the IC. Adams is an Australian expatriate who has lived in the US for 20 years and has been involved with footy at numerous levels. We had a nice chat about the rise of Aussie rules in the States, what to expect from this year's IC, and how footy can continue to reach audiences worldwide.
Q: Where are you from originally?
A: Melbourne; I moved to the US in 1994.
Q: Cool. Which USAFL club did you first get involved with after you moved here? And in what context (i.e., umpiring, coaching, or playing yourself)?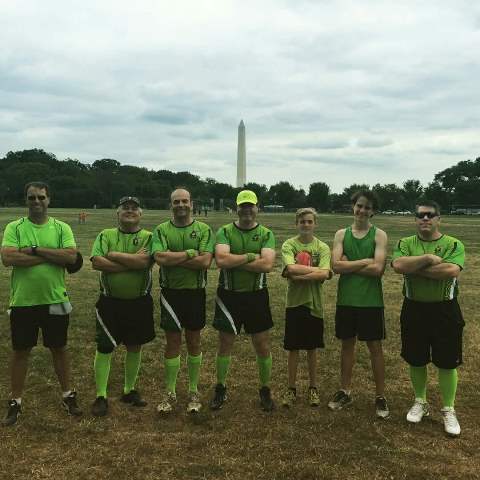 A:
The Milwaukee Bombers formed around 1998. I joined them in 1999 while I lived in Madison, Wisconsin. I played with them until I moved to Vermont in 2000. In 2001, I moved to DC and joined the Baltimore-Washington Eagles. I was a player and assistant coach with them until I retired in 2003. I founded the junior program in DC in 2006 and started umpiring about three years ago.
Q: That's awesome. Coming from Melbourne, what struck you the most about footy here in the States? Obviously, you came when the USAFL was still in its infancy.
A: That I could get a kick. I played footy--badly--as a little kid and ended up playing basketball for most of my youth. I went to my first training in Milwaukee all worried about my skills. I had nothing to worry about. Going to my first Nationals was amazing. Seeing a few hundred fellow footy fans running around an oval in southern Ohio was pretty crazy.
Q: I can imagine. As an Aussie, how does it feel to see footy take off in the States?
A: Well, it has been a lot of hard work. I have been on the USAFL board, I've helped build the Milwaukee Bombers, the Baltimore-Washington Eagles and now the Washington Junior Australian Football Club, as well as umpiring in the DC area. I'm excited to see my son start playing for the Eagles (CJ is pictured below working with kids at the Washington Junior Australian Football Club) .
Q: Awesome. How old is he?
A: 17.
Q: Is this the first time you've been to the IC as an umpire?
A: It's my first time at the IC; I'm excited to finally have a go at it. I should be a great experience for me and my son. He will be boundary umpiring at the IC.
Q: Cool. I'm sure it'll be a rewarding experience for you both! I assume you'll be catching up with other family members down there too?
A: We will be staying with my mother. We are all Carlton fans, so my brother and his family will go to watch the Carlton U19s take on Essendon.
Q: Sounds good. Which games will you be umpiring at the IC?
A: So far, I have Papua New Guinea vs. European Crusaders, and Canada vs. Pakistan in the women's side.
Q: Good stuff. What about CJ?
A: He'll have Japan vs. India (Men's Division 2) and Canada vs. Great Britain (Men's Division 1).
Q: Who do you think could be the dark horse in the IC this year? And what do you think of the Revos' chances?
A: New Zealand seems to be really good on paper. I think Papua New Guinea and New Zealand will be the teams to beat. I hope the Revos are in the mix in all of their games. They have a pretty nice draw.
Q: Agreed. What do you think is the biggest key to keeping footy going worldwide, whether in the States or elsewhere?
A: Juniors. The AFL has a wonderful program in Auskick for the under-9s. I think the AFL needs to help international organizations develop elite pathways for juniors and opportunities for young athletes to experience high quality AFL coaching and training.
Q: Yeah, that could be very valuable. As an American, I feel like one of the bigger obstacles to expanding footy is the fact that there's not much of a community sports culture over here (at least compared to Australia). But I also believe that there's a mostly untapped part of our sporting culture that's very much into full-contact sports. Getting kids and teens involved via more junior programs would be a terrific step forward.
A: Raising an American, it's been cool to teach him a game that he will continue to play for the foreseeable future, through college and as he starts his career. I know that he has a ready-made group of friends in any city he moves to.
Q: For sure. One of the best things about footy is the type of community it fosters. Regardless of sports background, nationality, etc. you can find a place at a footy club if you put in the work.
A: We head out tomorrow. Should be a lot of fun. Thank you for doing this.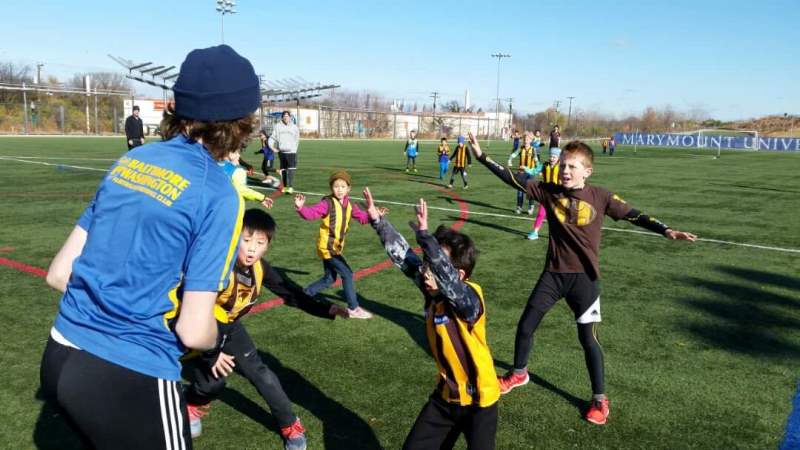 The International Umpires
| DISCIPLINE | SURNAME | FIRST NAME | STATE / COUNTRY | UMPIRING GROUP |
| --- | --- | --- | --- | --- |
| FIELD | DINNICK | PETER | USA | CANADA |
| FIELD | KHUZWAYO | NOSIPHO | SA | SOUTH AFRICA |
| FIELD | NQUNQEKA | SIBUSISO | SA | SOUTH AFRICA |
| FIELD | AYYADI | OSCAR | UK | UK |
| FIELD | DAVEY | JOSHUA | UK | UK |
| FIELD | PASCOE | GEOFFREY | UK | UK |
| FIELD | ADAMS | CHRIS | USA | USA |
| FIELD | MILLS | JONATHAN | USA | USA |
| FIELD | PERSSON | JEFF | USA | USA |
| FIELD | RUPE | LAURIE | USA | USA |
| BOUNDARY | ADAMS | CJ | USA | USA |
| GOAL | CAESAR | SID | USA | USA |
| GOAL | MILLS | JONATHAN | USA | USA |
| GOAL | PERSSON | TOBY | USA | USA |