Ireland Warriors have the measure of France Coqs
Wednesday, August 09 2017 @ 08:03 pm ACST
Contributed by: Harley Vague
Views: 1,835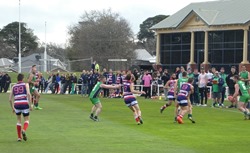 2017 International Cup Round #2. Saint Patrick's Ballarat. Men's Division 1. Ireland Warriors Vs France Coqs Wednesday 9th August. 12.30pm
The Ireland Warriors were definite favourites going into this match and the final score was probably a true reflection of the game. The Ireland Warriors have won two out of three International Cup grand finals losing to the P.N.G. Mosquitos in 2014. France commenced in 2011 with a ranking of 14th and improved in 2014 to 11th. Now they were up against the 2nd ranked team which had just previously defeated the world champions. In comparison France were overrun by 10th ranked Fiji Tribe.
Previous Results.
Round #1. Mosquitos 4 goals 7 behinds = 31 points Vs Warriors 6 goals 6 behinds = 42 points
Round #1. Fiji Tribe 10 goals 20 points = 80 points vs France Coqs 2 goals 3 behinds = 15 points

The ground was in immaculate condition and the breeze was blowing across ground and slightly favouring the to which Ireland were kicking. The ball immediately went to the dead wing and play continuously gravitated back there Fiachra O'Dheasmhunaigh #7 was seen marking and putting the ball into attack.
France was defending well and their tactics of short possession kicks was containing the Irish who were itching to open up. In the 11th minute a French player courageously attempting a mark to was hit and taken off the ground by stretcher. The tall powerfully built Padraig Lucey #22 loomed dangerous as the French were caught out when the ball was brought quickly into the Irish scoring arc. It was Gavin Murray #11 who marked and passed to a good lead of Padraig Lucey #22 who for finished with the only goal for the quarter
Quarter 1. Ireland Warriors 1 g 2 b = 8 pts France Coqs 0 g 0 b = 0 pts
In the second quarter play opened up and the Warriors began to assert their authority. Padraig Lucey #22 tapped cleverly over his head for Ireland to run on and kick a goal. It was a dominant quarter by him with many good leads for at least one goal and some misses. Liam Burns #8 slotted a magnificent goal on a sharp angle about 40m out. Muiris Bartley #4 marked a juggling ball and passed back to Padraig Lucey #22 for another good goal
.
Quarter 2. Ireland Warriors 5 g 6 b = 36 pts France Coqs 0 g 0 b = 0 pts
Ireland started the third quarter well. Padraig Lucey #22 dropped a mark only for another player swoop and soccer a goal. David Mc Elhone #6 marked and goaled. It was starting to look a little grim for the French when against the flow the Coqs pushed the ball into the open and a French player managed to guide the ball through from near the 50m arc.
The tempo lifted and it was Irish through the efforts of Patrick Brennan #16 that drove the ball low and hard splitting the big sticks. Ireland must have relaxed a little as the Coqs pushed the ball forward through a series of uncontested marks that resulted in a superb goal from about 40m out on the boundary
Quarter 3. Ireland Warriors 8 g 8 b = 56 pts France Coqs 2 g 1 b = 13 pts

The French Coqs were pumped going into the last quarter having scored two goals through good play in the previous quarter but it didn't take long for the Warriors to lock the ball into their forward line. Colin Lordan #19 took a handpass in the square for a goal. A collection of a rebound soccer kick allowed Irelend in for another goal. Declan Nannery #14 took a good diving mark and goaled. Padraig Lucey #22 finished the day with another mark and goal.
Quarter 4. Ireland Warriors 11 g 13 b = 79 pts France Coqs 2 g 2 b = 14 pts
Special mention to Patrick Brennen #16 who gave drive around the packs all day and threw himself into every contest. Also Vincent Monier #14 for the Coqs who led by example all day.
Ireland continues to shape as a finalist but they weren't that impressive against a French side that keeps on playing with pride and vigor.
St Patrick's - (Ballarat)

12:30pm -

Ireland vs France

1/4
1/2
3/4
Final
Ireland
1.2
5.6
8.8
11.13 (79)
France
0.0
0.0
2.1
2.2 (14)
Ireland
Best Players: P. Brennan, P. Lucey, P. O'Halloran, S. O'Sullivan, D. Fogarty, M. Bartley
Goal Kickers: P. Lucey 3, P. Brennan 2, L. Burns 2, M. Bartley, C. Lordan, D. Mcelhone, D. Nannery
France
Goal Kickers: J. Sardin, J. Raiwalui
Best Players: V. Monnier, A. Bernad, M. Ostorero, F. Floch, J. Sardin, C. Bouchet