Ruthless Fiji smash Pakistan on scoreboard but not in spirit
Sunday, August 13 2017 @ 05:15 pm ACST
Contributed by: Brett Northey
Views: 2,789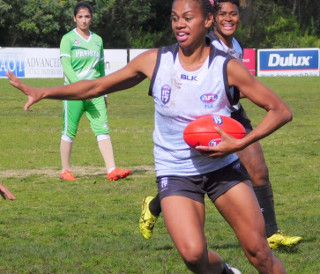 Fiji has turned on one of the highest scoring international women's games seen, destroying world footy newcomer Pakistan at Mulgrave Reserve, Wheelers Hill, Melbourne.
It was Round 3 of the Women's division and the Vonu were in no mood to go easy, having lost their two opening games by narrow margins to two of the top team in Canada and Great Britain.  They piled on goals in every quarter, keeping the Shaheens scoreless throughout the match.
Many thanks to Robert Wolfgramm for information contributing to this article and the Fiji Daily Post for the photos.
The location - the Eastern Devils ground, Mulgrave Reserve, Melbourne.  The weather - sunny, occasional clouds, negligible breeze, perfect for footy.

As the scoreboard suggests, Fiji had winners in all positions, though the Fiji backine was given little to do all day, as the Fiji centres and forwards ran rampant.  Credit to the hard-working Pakistani women but they were smaller and slower and generally struggled to slow the Vonu as Fiji booted through a major or minor every few minutes.

Fiji had sixteen scorers with multiple goal-kickers being PAULINI KOROWAQA, Makareta Tunidau, Vitalina Mirini, Fuga Taoba, Nesi Barini, MAKITALENA LAWEBUKA, VERENAISI CAGINAVANUA, SALLY FONG, Vasemaca Radinibukelevu, Lanieta Wolfgramm, VANI SEREVI, Jennifer Goodsir, Milika Tokaicake, Litia Matanisigadrau, and Kereni Nabalarua (best players according to Robert Wolfgramm in capitals).

The quality of the Fiji team has already been proven in their opening match against current world champs, Canada, where after leading in the closing stages, they were unlucky to lose by a point in extra time - put it down to Fiji's inexperience. Fiji also had its chances against Great Britain but squandered opportunities - again due to inexperience.

Today's match was far more one-sided and reward for Fiji's effort so far. Pakistan tried their hearts out, but due to their own even greater inexperience and lack of match fitness, were unable to interrupt the flow of Fiji out of the centre bounce goalward. Fiji's slick handball and effective kicking to team mates were a joy to behold.

But such is the excellent spirit between teams in the International Cup generally, that both vanquished and victor could celebrate their match together at the end of play. In fact the Pakistan team was still full of spirit despite the crushing loss, singing after the game.  We certainly hope such losses are not diminishing their love of the sport.
Final scores:
Fiji 29.20 (194)
Pakistan 0.0 (0)
Official AFL best players and goalkickers to follow later.