Chiefs stronger than the Northwind
Wednesday, August 16 2017 @ 11:00 am ACST
Contributed by: Anonymous
Views: 1,927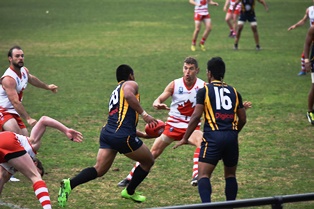 We welcome Michael Blades making his match report debut for WFN.
Nauru push through to beat hard fought Canada in a thrilling game.
These polar opposite teams battled furiously throughout the whole match, with both teams having strong spells in all quarters.
At the 8:45am bounce, Canada started strong, applying early forward pressure. There was a clear height advantage in favour of the Canadians which was not capitalized upon throughout the match.
Canada were lacking a dominant target man in their forward half which allowed Nauru to drop men back and comfortably clear the ball from their defensive 50. Nauru happily sat deep and soaked up the defensive pressure and then look to hit them hard on the counter attack.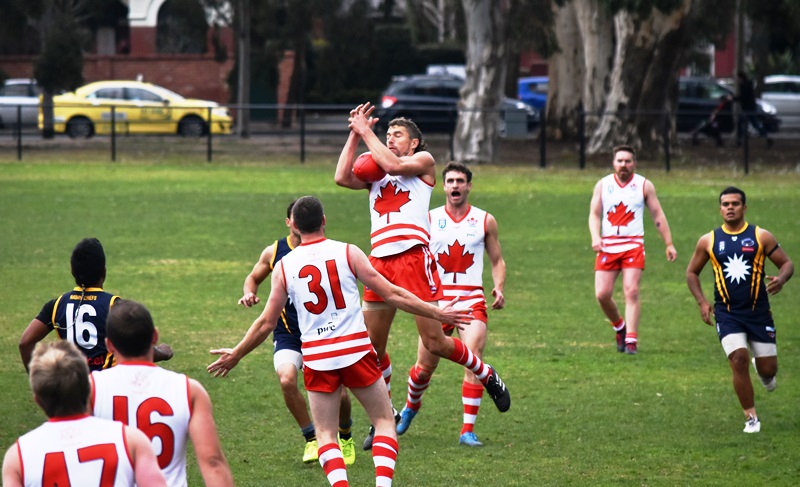 The first quarter ended with scores even at 4 points a piece, with both teams wasting good opportunities to apply early scoreboard pressure. Nauru defenders, #26 Niga Haulangi and #27 David Adeang, were standout performers in this quarter with both players working well together to deal with the early pressure. Neither team took overall control of the game at this stage so the second quarter was going to be important.
Nauru came out in the second quarter swinging with centre clearances leading to goals for both #24 Kaison Tatum and #12 Donatello Moses, but a swift reply from Canada's #7 Adam Nash kept them in the hunt. Poor ball use from the Canadians was starting to hurt them with the players struggling to find any rhythm.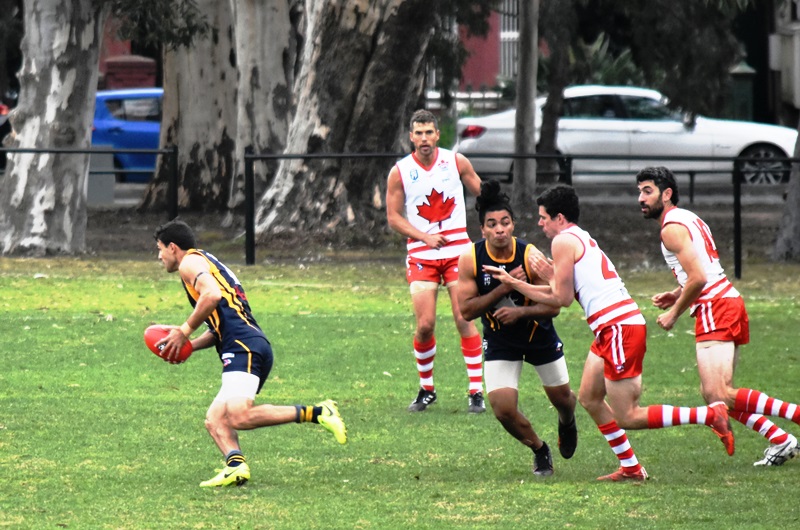 The whole team was taking too long to get the ball forward which was allowing Nauru the opportunity to drop players back when needed. Canada's #19 Eric Klein stood out with some impressive movement, but his team mates were unfortunately unable to find him often enough. Nauru started to push forward and with a huge pack mark in the goal square from #20 Shawn Kemp Maaki, they went into half time 14 points ahead.
The wind had noticeably picked up over the half time break and started blowing in favour of the Canadians. They used this to their advantage at the start of the third quarter and locked the ball into their forward 50 early, but much like the first and second quarter, they struggled to translate that forward pressure onto the scoreboard. Nauru sat deep and soaked up the early pressure and looked to be comfortably dealing with the long balls in. Canada's early dominance of the quarter is not rewarded and Nauru were able to move the ball forward with #9 Tiana Waidabu, starting to influence the game with his fast pace, good movement and quality ball usage.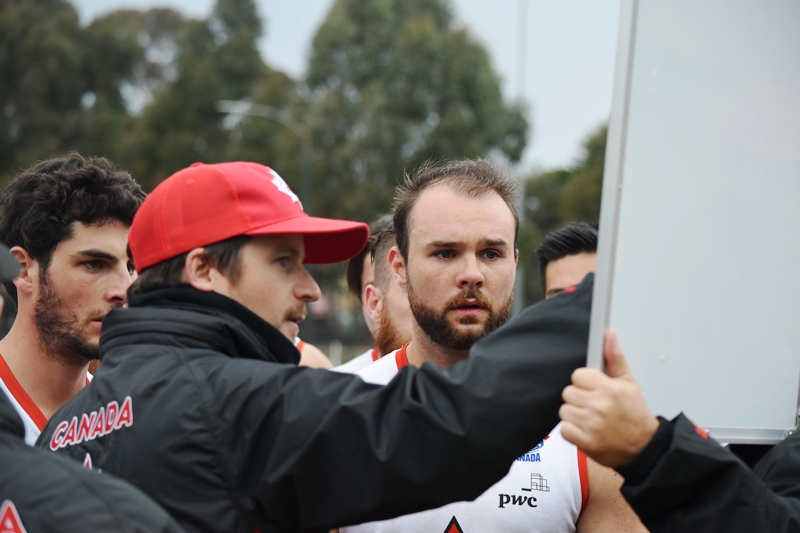 Coming into the last quarter, Canada trailed 2.4.(23) to 7.6.(48) so a strong start was going to be essential. However, it was Nauru who seemed to come out after the break looking the more likely to score with them locking the ball into their forward 50 early. Canada's #10 Giancarlo Brancati was keeping the team alive with some quality defensive work but his distribution was letting him down. Frustration from the Canadian players was starting to become evident with some incidence off the ball, with #8 Logan Anderson getting stuck into Nauru's #11 Kenneth Oppenheimer, who had looked to have the edge on him throughout the match. Nauru were the only team to score a goal in the last quarter which saw them take victory. The final scores were Canada 3.6.(24) to Nauru 8.8.(56).
The Canadians will come away from this match disappointed with themselves for their lack of aerial dominance, even though they had a clear height advantage. They were dominant early at getting the ball forward but were happy to lob the ball long and hope for a mark, rather then moving the ball around efficiently and waiting for the right option. The forwards were too compact in the attacking 50 so they needed to move around and create space for one another. There was a lack of overlapping runs from players at stoppages which slowed the game down and allowed Nauru to sit deep and defend. If Canada are able to correct some if these issues and focus on moving the ball quicker, they have the capability to become a strong and feared team.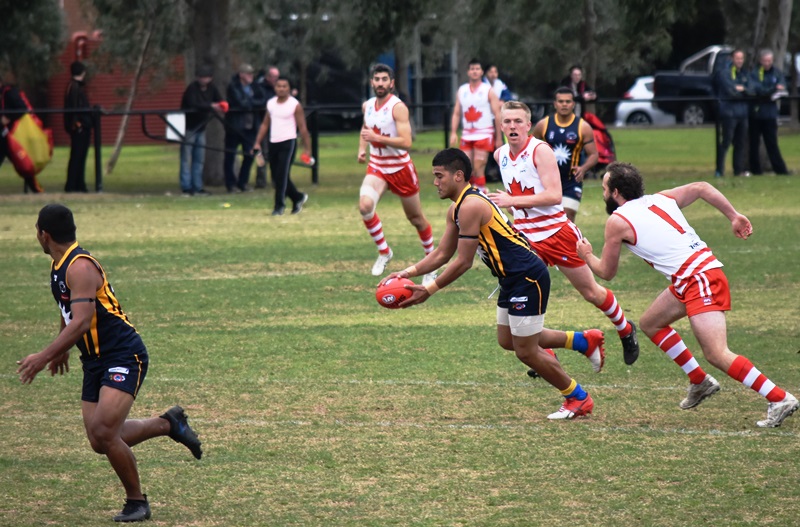 Nauru used their strengths perfectly throughout this game which was influential in their victory. For what they lacked in height, they gained in low centre of gravity and speed which allowed them to manoeuvre around their opponents with relative ease.
Their ability to spread the field and counteract the natural congestion of the game, made them unstoppable on the counter attack. Once they were able to get it out of their defensive half, there was always an extra man forward which gave them a clear advantage of either getting a mark, or handballing their way out of trouble in tight areas. Of course there is always room for improvement with ball distribution and decision making, but if this team plays to its strengths, they will always be a difficult opponent to face.
Ransford Oval 8:45am -

Round 4 - Canada vs Nauru
Team
1/4
1/2
3/4
Final
Canada
0.4
2.4
3.6
3.6 (24)
Nauru
0.4
4.6
7.6
8.8 (56)
Canada
Goal Kickers: A. Nash, M. Aspell, K. Graham
Best Players: J. Martin, G. Brancati, M. Whyte, A. Huard, E. Klein, Q. Hobbs
Nauru
Goal Kickers: K. Oppenheimer, J. Uepa, D. Moses, P. Agadio, R. Spanner, S. KempMaaki, B. Deidenang, K. Tatum
Best Players: N. Haulangi, P. Agadio, M. Batsiua, B. Deidenang, D. Moses, G. Uera