IC17 Mens Div 1 Grand Final Qtr by Qtr play by play - PNG go Back to Back

Melbourne provided a lie - early morning sunshine - nearing game time along came the dark clouds and the Papua New Guinea Mosquitoes and New Zealand Hawks warm up and pre game photos became rain drenched.
Both sides now face the task of a 5th game in 2 weeks - on the vast expanses of the Melbourne Cricket Ground. The surface of course is superb - there is no muddy centre wicket area - there's no patchy grass or exposed soil. There is though a 50 metre arc (not 45m) and wide wings. The capacity to cover territory and retain run in the legs will be critical. No height advantage is worth anything without supply.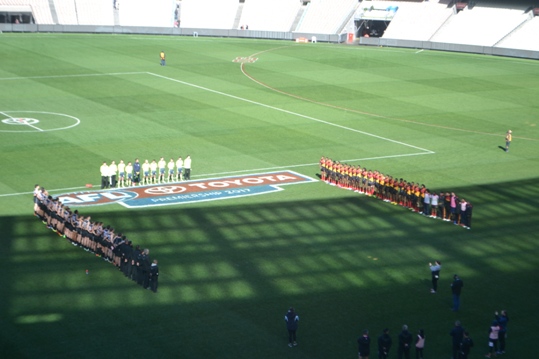 Under mostly blue skies the game gets underway - New Zealand kicking to the Punt Road end. PNG to the City end.
Squad Stats
New Zealand
Papua New Guinea
Avg Ht cm
182.7
177.7
Avg Wt kg
84.1
80.2
Avg age
25.7
22.8
First Quarter
New Zealand kicking to the Punt Road end. PNG to the City end. New Zealand the first inside 50 but PNG early on pushing numbers back. 2:30: NZ GOAL New Zealand find the way through with Donnell-Brown spotting up Barclay Miller finding space off his opponent to mark and get NZ on the board with 2 and half a minutes. NZ 1.0.6 PNG 0.0.0 6:30: NZ GOAL After a failed PNG switch the ball ends up with Clince handball to Clark and a high kick from left half forward on the 50M arc - is marked by Sam McKenzie in the forward pocket. Drills the 2nd goal. NZ 2.0.12 PNG 0.0.0 9:10: PNG BEHIND Beno puts PNG on the board with a minor. NZ 2.0.12 PNG 0.1.1 10:30 PNG GOAL PNG attacking – So-Ong kicks around the corner on the left to find Pirika unmarked – goes back and slots the goal. NZ 2.0.12 PNG 1.1.7 PNG getting into the game now - a lot of play on the Southern side. Both sides running the bench rotations. PNG trying to take the game on through the centre of the ground. Turn overs hurt early but PNG defence has tightened up. Switching working better now but transition from defence to attack causes concern. Last minute a ball trapped inside PNG F50. All players in the PNG half of the ground as the Hawks try desperately to hold onto a lead. And they do.
Summary Typical GF opening - multiple bounces, fumbling, more by PNG. NZ players with St K/Sandy experience having big influence early - settled quicker. Both playing the forward press but NZ long and more efficient handballs allowing kicks to a marking player. Both goals from marks inside F50. PNG getting numbers to the ball but rarely getting it out early. Half way through, their running game starts to click - Mosquitoes short passing working some of the time but after rain some dropped chest marks and turn overs threaten to derail. But we know the Mozzies won't die wondering.
| | Goals | Behinds | Points |
| --- | --- | --- | --- |
| NZ | 2 | 0 | 12 |
| PNG | 1 | 1 | 7 |
Goal Kickers: New Zealand: Miller, McKenzie Papua New Guinea: Pirika Second Quarter

PNG kicking to the Punt Road end. NZ to the City end. 1:00 : NZ GOAL Goal to NZ - pack mark by Johnson for NZ after long kick into F50 from Miller. NZ 3.0.18 PNG 1.1.7 3:00 : PNG GOAL Goal to PNG - pack mark at the other end - Pirika and like Johnson 2 minutes earlier - kicks truly - goal for goal. NZ 3.0.18 PNG 2.1.13 5:45 : PNG BEHIND behind to 'Ace' - Hewago Paul Oea. NZ 3.0.18 PNG 2.2.14 Contested play - NZ mostly in attack but PNG working hard, trying to switch and find open space but often dangerously coming back into the corridor. 11:00 : NZ BEHIND Behind to Faimolo with a shot from right forward pocket near the boundary.NZ 3.1.19 PNG 2.2.14 PNG gain some momentum, but can't crack the last line of defence. A strong mark to Joe Baker-Thomas. PNG come again, but NZ repel and push forward - and suddenly a battle for possession in the Hawks goals square but PNG survive and again, switch the play looking for the open spaces. 15:15 Free to Max Lavai between wing and half forward MCC members side. Finds Piriku on the lead marking on the arc - too far out and the play on to Tupia tumbles over the line in the left forward pocket. Nearing last minute of the half and a stoppage in the PNG F50. 17:00 : PNG GOAL Mistake by B.Sucu, tackles 'Ace' Paul Oea to the ground but he'd got rid of the ball. A scuffle breaks out. The time clock ticks over but Paul Oea has a shot at goal and gives PNG the half time lead - by the slimmest of margins. NZ 3.1.19 PNG 3.2.20

Summary After early goals to both teams via similar contested marks close to goal - the game became a battle of defences. PNG working hard to switch play and avoid the NZ talls both back and forward. The late goal after the free broke the dead lock that had developed during the quarter. Both sides continue to get numbers around the ball - it's the spread from the stoppage that tends to hurt PNG with NZ defensively spreading better at times. NZ lost Andriu Sucu during the quarter - a potential big loss to the defensive.
| | Goals | Behinds | Points |
| --- | --- | --- | --- |
| NZ | 3 | 1 | 19 |
| PNG | 3 | 2 | 20 |
Goal Kickers: New Zealand: Miller, McKenzie, Johnson Papua New Guinea: Pirika 2, Oea 1 Third Quarter 4:15 : PNG BEHIND Behind to Tupia with a long short after the hand ball from So-Ong. NZ 3.1.19 PNG 3.3.21 NZ transition the Southern stand side but turn it over inside F50 - PNG try circle work again, coming around the Members wing but over the line it goes. PNG just a little uncertain at times - a couple of marks no taken however the PNG smalls are winning frees by attacking the ball and worrying the Hawks. Play going end to end - with both sides having players behind the ball and pushing numbers back into defence and around the ball. 7:40 : NZ BEHIND Kusel to Howison on right half forward, flying shot goes wide. NZ 3.2.20 PNG 3.3.21 9:40 : PNG BEHIND Lavai delivers delightfully to Pirika right forward pocket. Set shot stabbed at tentatively and goes right side for a minor. NZ 3.2.20 PNG 3.4.22 NZ go length of the ground but ruckman Smith spills a mark 25 out. PNG repel momentarily. 12:00 : NZ BEHIND NZ back inside F50 and PNG under pressure turn the ball over after Clince lays effective tackle. Shot from about 40, left forward pocket, just goes left of the post. NZ 3.3.21 PNG 3.4.22 13:15 :NZ GOAL Ben Hick intercepts and delivers inside 50 to Donnell-Brown who kicks truly. NZ 4.3.27 PNG 3.4.22 14:15 : PNG GOAL PNG get the centre clearance and Clyde Palah crumbs and snaps truly on the right foot from about 20m out. Quick answering goal. Good contest. NZ 4.3.27 PNG 4.4.28 Last minute and neither side wants to concede - the quarter winds down with stoppages on the southern stand wing.
| | Goals | Behinds | Points |
| --- | --- | --- | --- |
| NZ | 4 | 3 | 27 |
| PNG | 4 | 4 | 28 |
Goal Kickers: New Zealand: Miller, McKenzie, Johnson, Donnell-Brown Papua New Guinea: Pirika 2, Oea,, Palah

Final Quarter PNG the first foray forward, the kick to the top of the square by Laurie Logo (after winning a free) was repelled by the Hawks as the ball carried the high flying pack. Minutes pass with no one gaining the break. Faimalo marks out wide near the arc for the Hawks and attacks the goal square but again the PNG defence stands firm. PNG work the Southern Stand side to transfer into attack, and themselves attack the goal square with a long kick from near the boundary-50m intersect. The Hawks get the free. 5 scoreless minutes now gone - the Hawks via Howison and Brandon Sucu try to get forward through the corridor but the Hawks are worried out of it, chip wide before coming back inboard but again the PNG defence stand firm. PNG starting to look a little fumbly and panicking - NZ looking a little more controlled when in possession but still unable to make an impact on the scoreboard. Nearing 10 scoreless minutes. The WFN pundits speculate next goal will win, but, it may be increments of single points that get the job done. PNG break from D50 but NZ intercept via Dickinson midfield and finds Howison who chips to Christensen who will kick from 50 out true CHF. Just falls short and wide. 11:40 : NZ BEHIND Quick kick from Johnson is marked fortunately by Miller close to goal - but puts it into the post. Bad miss - feeling being that next goal wins. Scores level. NZ 4.4.28 PNG 4.4.28 NZ doing most the attacking - all players in their half but at 13 mins PNG get a free - push wide into the sun shine and suddenly Oea finds Savere on the wing and now PNG come back into towards CHF - 14:20 : PNG BEHINDNZ defend and look to have escaped but Tupia intercepts a handball and the quick rebound finds Siwee over the top - running into goal - only to hit the post. Another bad miss - would have been the sealer - door still ajar. NZ 4.4.28 PNG 4.5.29 PNG go forward, chip from Wartovo in front of goal sees PNG forwards spoil each other. Entering last minute and a stoppage at CHF for PNG. Last chance for the Hawks - Johnson marks for PNG in front of Hawks goal to save the day. Siren goes and the Mozzies go BACK TO BACK.
| | Goals | Behinds | Points |
| --- | --- | --- | --- |
| NZ | 4 | 4 | 28 |
| PNG | 4 | 5 | 29 |
Goal Kickers: New Zealand: Miller, McKenzie, Johnson, Donnell-Brown Papua New Guinea: Pirika 2, Paul Oea,, Palah Best Players: New Zealand: J. Baker-Thomas, J. Johnson, M. Boyce, L. Beattie, A. Christensen, S. Leat Papua New Guinea: H. Paul Oea, G. Simon, J. James Lavai, E. Tupia, B. Beno, M. King

The best on ground medal is awarded to the youngest player out there - "Ace" Hewago Paul Oea.
---
Events
There are no upcoming events
Older Stories
Wednesday 14-Dec
Friday 18-Nov
Sunday 23-Oct
Saturday 08-Oct
Friday 07-Oct
Thursday 06-Oct
---
Who's Online
Guest Users: 78

What's New
Articles last 2 weeks
No new articles

Comments last 2 weeks
No new comments

Links last 2 weeks
No recent new links

---