Fiji preparing to host Oceania Cup
Thursday, November 23 2017 @ 09:32 pm ACDT
Contributed by: Frederick Shaibani
Views: 2,339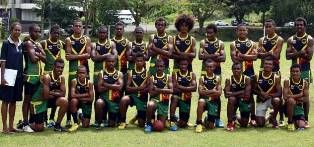 The 2017 AFL Oceania Cup will be returning to Fiji on December 4th.
A total of four countries will be competing at the event, which is one of the most significant summer footy tournaments in the world. AFL Fiji has experienced rapid growth within the past few years, highlighted by the men's national team (the Tribe) finishing sixth earlier this year at the International Cup. The Fiji Vonu, the women's team, finished fifth.
A country with no shortage of raw athletes, Fiji has recently become home to an AFL girls' developmental academy, as well as a rapidly-growing Under-15s program, known as the Junior Tribe.
Tonga will be bringing their U15 team, the Thunder, to the cup as well. While adult footy competition on Tonga has been sporadic in recent years, the junior Auskick programs are thriving and the sport has remained popular among schoolkids.
The Melanesian country of Vanuatu will also be competing. Fiji's western neighbor has had periodic footy competitions since 2006, but with the help of AFL development officers and coaches, they have developed a strong list of young athletes in a short amount of time. The U15 team, the Volcanos (pictured), are excited to play quality footy on a bigger stage in Fiji.
And last -- but certainly not least -- is Nauru, possibly the most footy-obsessed country outside of Australia itself. The tiny Micronesian island has been a constant presence at the International Cup (finishing fifth this year) and also has a strong domestic competition that draws passionate players and fans alike. Their U15 team, the Stars, has won the past two Oceania Cups and will be looking to add another one to their arsenal in a few weeks time.
The tournament will be held at Albert Park in the Fijian capital of Suva. In addition to the games, there will also be other sessions, including programs aimed at violence prevention and community ambassadorship. We often hear about footy being a great avenue for sports diplomacy, but it's also an opportunity for youngsters to gain valuable life lessons and give back to their communities.
Additionally, the Fiji Vonu Academy will be playing a test match on Wednesday, December 6th, while the best U15 players from the four competing countries will also be playing the Flying Boomerangs, an indigenous Australian side. The fixtures for all matches will be released soon.