Port Adelaide and Four'N Twenty partner to deliver school footy program in China
Wednesday, December 06 2017 @ 10:03 am ACDT
Contributed by: Troy Thompson
Views: 2,558

The Port Adelaide Football Club is proud to announce a partnership with Four'N Twenty that will continue strengthening cross-cultural ties between Australia and China.
The iconic Australian brand will be the Presenting Partner for Port Adelaide's ground-breaking grass-roots program, Power Footy, which uses football to introduce Australian culture to Chinese schools.
Patties Foods Chief Executive Officer Paul Hitchcock says, "Port Adelaide's engagement in China matches the company's vision to evolve its sponsorship strategy with a more global focus, while building on the relationship with the club which has already spanned three years.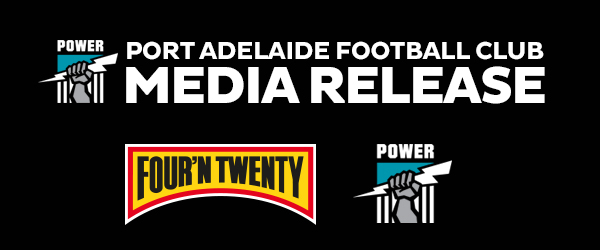 "Nothing is more Australian than a Four'N Twenty beef pie with sauce, but we don't see any reason why we can't share it with the world. After all it is 'The Great Australian Taste'," said Mr Hitchcock.
"We recently struck a partnership with the Philadelphia 76ers in the NBA, as part of our global brand strategy to expand the geographic footprint of the quintessential Australian taste.
"Now, we're excited by the opportunities made available through Port Adelaide's pioneering entry into the Chinese market."
Port Adelaide's General Manger of China Engagement, Andrew Hunter, says the club, like Four'N Twenty, is determined not to be limited by Australia's borders.
"The Four'N Twenty partnership with the Philadelphia 76ers and now the Port Adelaide Football Club is further evidence that we are on track to be the first Australian sporting club to become an international brand," Mr Hunter said.
"This is a great example of how our engagement in China offers our partners another avenue through which they can develop their business. Four'N Twenty changed their sponsorship strategy in Australia, but remained a partner of Port Adelaide because of our engagement in China."
The initial two-year partnership will see Four'N Twenty pies available at Adelaide Arena at Jiangwan Stadium during Port Adelaide's landmark Round 9 clash with Gold Coast.
Mr Hunter says the ultimate Aussie snack will also fuel Chinese students as they take part in the Power Footy program.
"Power Footy is our flagship engagement initiative in China. We are currently delivering the program in 17 schools, but we will be active in 50 schools by the end of 2018. This will mean we will reach over 100,000 Chinese students by the end of next year. And we are not just teaching footy, but talking about football as an expression of Australian culture.
"Four'N Twenty's support for Power Footy is an excellent endorsement of the program. They believe Power Footy is a wonderful tool of engagement with Chinese students, who are destined to visit Australia in the future as students, tourists, or to pursue business interests."
Four'N Twenty will also partner PAFC in its universities engagement program in Adelaide, where the club hosts 50 Chinese university students at every Adelaide Oval home game as part of its commitment to welcoming them to South Australia.