'X' Marks The Spot For Asian Expansion
Tuesday, January 02 2018 @ 09:07 pm ACDT
Contributed by: Wesley Hull
Views: 2,891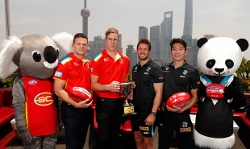 Nat Edwards from the www.afl.com.au website reports on the AFL's latest bold move to use the new to be revealed AFLX football format as a key weapon in growing Australian Rules football in both China and India in coming years.
THE LEAGUE will use its new high-octane format, AFLX, to make a significant push into China and India in the future.
The fast-paced, shortened format will make its debut in February across three separate tournaments starting in Adelaide on February 15 at Hindmarsh Stadium.
Melbourne will host the second lot of AFLX round-robin matches at Etihad Stadium on February 16, before the game heads to Allianz Stadium in Sydney.
The game, which is played with 10 players per team, has been adapted to be played on rectangular grounds.
The ability to play AFLX at soccer and rugby venues will give the League more scope to push the game into non-traditional AFL states such as New South Wales and Queensland, while it also opens the door for the AFL to promote and develop the hybrid game in China and India.
AFL general manager of China, David Stevenson, told AFL.com.au the League had its sights firmly set on taking AFLX overseas to Asia.
"Absolutely [that's our goal]. I think there are two reasons for that," he said.
"One is we're targeting at kids and families, that's our primary audience. That's why we have a shorter format, 10-minute halves, high scoring, lots of active play in that time. It's targeted at young kids, which will work in New South Wales and Queensland, as well as China and India.
"The second reason is logistically, in those markets (China and India), there are no venues. In China as we found there are not a lot of venues that are oval. In India, it's a little easier as they play a lot of cricket, but in China it's harder.
"Some part of New South Wales and Queensland there's a lot of rugby and soccer fields, so AFLX could work there too."
The AFL hasn't yet set a timeline for when it might attempt to introduce AFLX into the Asian market, but it is keen to get participation programs up and running in those regions.
Australian football isn't a foreign concept in China, with Gold Coast and Port Adelaide playing the first ever game for premiership points in Shanghai in May last year.
Chinese broadcaster Guangzhou TV also aired regular AFL games during the 2017 home and away season, as well as last year's Grand Final.
Port Adelaide, in conjunction with the AFL, has also set up football programs at 15 schools in Shanghai.
India on the other hand is relatively untapped by the AFL, despite having the world's fastest growing economy.
A report published by the United Nations department of economic and social affairs has predicted India will be the world's most populous country by 2024, overtaking China.
In June last year, Essendon and Adelaide announced they were forming a strategic partnership to grow the game in India, in the hopes of eventually playing an exhibition match on Indian soil.
To view the original article from Nat Edwards, go to the AFL's website at: http://www.afl.com.au/news/2018-01-02/x-marks-the-spot-for-asian-expansion
Picture Credit: www.afl.com.au