Mumbai Footy Cup 2018
Friday, March 02 2018 @ 11:36 am ACDT
Contributed by: Wesley Hull
Views: 1,697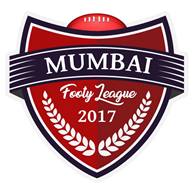 The new season of footy in Mumbai, India, will soon be announced and get underway. Run under the direction of Reclink India and Mumbai Footy, the competition premiered last year featuring teams from across Mumbai – India's largest city and the capital city of the state of Maharashtra
Co-founder and national coordinator of the Mumbai Footy League, Sumesh Sawant stated, "last year we played Mumbai Footy League which lasted for two months instead of [the] Mumbai Footy Cup. For this year the dates are not out yet for Mumbai Footy Cup but most likely it will be happening somewhere between March to May."
Last year's competition featured two older clubs – the Mahim Cats and the Matunga Tigers – with the addition of the Churchgate Lions, Grant Road Bombers, Mumbai Central Giants and the Charni Road Eagles in the first domestic suburban home and away style competition in India.
Dates and teams for the 2018 edition of the competition will be advised shortly. The competition, whilst not run as part of AFL India, remains a major part of development of the game in India – especially Mumbai – as the game reaches even bigger audiences and becomes a part of the talent pathway for kids to adults.
Reclink India and Mumbai Footy have been working very closely with local schools to increase participation, both at school level and moving towards involvement with Mumbai-based clubs. A more detailed story regarding the work within schools will follow soon.
In addition to the schools program and Mumbai Footy Cup, the All India Footy Carnival 2018 will be held in Mumbai in October. The combination of each of these components will see a huge spike in interest in the game. The pathway from schools to clubs to a national competition is now clearer and very exciting.
For information about the work of Reclink India and Mumbai Footy, visit their Facebook page and website at:
https://www.facebook.com/AussieRulesFootyMumbai/
and
http://australianrulesfootballmumbai.com/