Asia On The Expansion Plan – AFLX
Friday, March 02 2018 @ 03:35 pm ACDT
Contributed by: Wesley Hull
Views: 1,828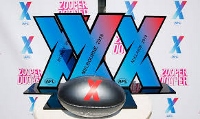 According to Matt Thomson on the www.afl.com.au website, he AFL will be taking the new AFLX version of the game into Asia on a bigger scale very soon. Whilst the jury is still out to some degree on the success of the game here in Australia with the AFL clubs involved as part of the pre-season schedule, smaller versions of the game have already been successfully adapted across the world through local leagues.
These amendments have included smaller grounds – rugby and soccer fields – smaller player numbers (predominantly using an AFL 9's format adapted to include normal playing rules) and other adjustments. But the move into Hong Kong (see below) might be the catalyst for more countries to consider adapting further to the seven per side AFLX format.
AFLX appears headed to Asia, with the prospect of a November tournament in Hong Kong on the League's agenda.      
 It follows three experimental tournaments last month in Adelaide, Melbourne and Sydney.      
"We've literally just been talking about it," League chief executive Gillon McLachlan told radio station 3AW on Friday morning.      
"I think the future's enormous," he said.     
"I think you can have a distinct product potentially with different owners, you can involve past players.      
"I'd like to see us have a crack at it in November somewhere into Asia, we've got venue availability, new audiences are closer to the game … it's just a bit easier for new people to consume.      
"(Maybe we) take 10 players to Hong Kong, or 12 players, after the draft and you have to take two of your top two draft picks, maybe you have to have one recently retired player and a number of other players and make it a bit interesting and have a look at it.      
"They're some of the ideas we're kicking around."    
AFLX is a shorter, modified version of Australian football played on a rectangle field with teams of seven players and three on the bench.  
The original story can be found at: http://www.afl.com.au/news/2018-03-02/afls-xpansion-plans-asia-on-the-radar
Picture Credit: Fremantle FC