School Kids Get Footy Lesson In India
Tuesday, March 06 2018 @ 12:06 am ACDT
Contributed by: Wesley Hull
Views: 1,698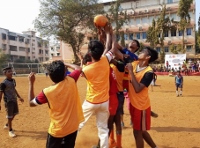 In recent weeks we have seen some tremendous initiatives to develop the game of Australian Rules football across the world. From player drafts and new urban leagues in Colombia (see Bombers, Bullants and Aguilas Arrive in Bogotá) to school and ministry driven national tournaments in East Africa (see Something Amazing Happening In East Africa) individuals, clubs and leagues are finding innovative ways to attract new players to the game and open up new markets.
Another example of this development is happening in Mumbai India where Reclink India has joined forces with Mumbai Footy to get the game into schools. According to Sumesh Sawant, Co-Founder and National Coordinator from the Reclink India report:
 Reclink  India 50k Footy Program:
"We aim to bring the sport to more than 50k students in next three years. Reclink India 50K footy program provides regular footy activities to local government schools where kids don't have opportunities to play organized sports. Through AFL 9s we are creating a              healthy, safe and fun environment for kids. Participation in sports is an important aspect that promotes healthy growth and development in children. Our program encourages female involvement and promotes youth empowerment through footy."
Last month the program reached a high point with the running of the Reclink India Inter-School Footy Tournament 2018. According to the Reclink India report:
RECLINK INDIA INTER-SCHOOL FOOTY TOURNAMENT 2018
With the successful launch of the 50k Footy Program for school kids, Reclink India concluded its first ever Inter-School footy tournament on 3 rd February in Mumbai, Maharashtra and on 10th February in Jaipur, Rajasthan. Around 150 kids, including girls, participated in the tournament in each state in three divisions – Senio Senior girls teams during a match at the Chaugan Stadium in Jaipur. 
 All the schools involved in this program are municipal schools where the students don't have easy access to organized sports activities. Participating in the Inter-School tournament was a brilliant opportunity for the kids to showcase their talents and experience a sports competition in a safe and fun environment. Kids from both the states played with a lot of passion and energy, showing their liking for this new sport.
Mumbai (3rd February) - 5 schools participated in the Mumbai tournament which was held at the Worli Sports Club Ground, considering ease of conveyance for the kids. Team Tigers, represented by the students of City of Los Angeles Municipal School won the first place in the senior divisions for both boys and girls whereas the Crows, represented by the students of Adarsh Nagar Municipal School, bagged the trophy in the junior mixed category.  
Jaipur (10th February) – 6 schools played in the inter-school tournament in Rajasthan at a famous sports ground called the Chaugan Stadium. The Saraswati Baal Vidhya Mandir Senior Secondary School playing for the Bombers won the first place in the senior division for boys and girls. Team Kangaroos represented by the Laxmi Shikshan Sansthan School emerged victorious in the junior mixed division.
Reclink India would like to thank all of their supporters and sponsors namely Reclink Australia, India Unbound, Phillips Foundation, Just Get Active and the West Coast Eagles for their continual help and encouragement and to make this event a grand success.
Whilst the programs re ostensibly for the development of school children across many aspects of their lives, there is also the potential for growth for coaches within the program.
According to the Reclink India 50K Footy Program Report:
We at Reclink India, are using the most efficient ways to promote our program; our coaches are the young players who have been involved in footy activities since a couple of years and are now going to schools as instructors. We believe in giving back to the community. Our coaches are mostly students, and through our program each young player gets a chance to be a coach and become a more responsible and disciplined person. 
Majority of the work done by the staff involves coaching the school kids which takes up around 20hours per week. Along with coaching, the staff also needs to perform administrative tasks like procuring permission from the school's governing bodies and writing reports about the activities conducted. A coaching guide has been created for the instructors to refer to so that the teachings remain uniform and efficient throughout all locations. 
This program is enormous in its scope for game development as well as being a genuine part of education options for students in India. Whilst Reclink India and Mumbai Footy operate their programs independently from AFL India, ultimately this is still a story of the game of football growing in Mumbai and elsewhere in an unprecedented manner. The momentum created will go a long way towards the game gaining stronger and wider footholds across the world's second most populated country.
Image Credits: Reclink India