AFL Academy punish NZ late in ANZAC clash.

Westpac stadium in Wellington has hosted a big day of footy with the AFL NZ team taking on the highly talented AFL AIS Academy squad. The curtain raiser was the NZ girls against the touring Mornington Peninsula Junior Football League girls side in a follow up to their Sunday morning first instalment.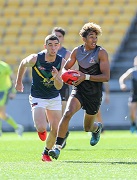 Following on from their 4.9.33 to 1.0.6 win on Sunday morning - the NZ Youth Girls backed up with a 3.6.24 to 1.6.12 win.
The senior AFL NZ line up included a number of familiar faces from the IC17 squad along with some new comers. Debutant Dean Staunton scored the first behind for the Hawks.
The first quarter was a tight after - with goals to Delahunty and Davis for the tourists while Mykelti Lefau scored the first for the Hawks and a mark on the siren to Barclay Miller saw a familiar post siren scenario to kick the Hawks second. At quarter time a deficit of a solitary behind. As expected - as the game draws on the Australians would pull away and this began in the second term however the Hawks added 2 more goals via Andy Howison and James McKenzie to trail by 37 at the main break.
The first 10 mins of the 3rd term belonged to the Hawks and with goals to Lefau and Misilifi Faimlalo the Hawks closed the margin trailing 66 to 40; however again as the quarter wore on the Academy side slammed on 5 late goals to head into the final break comfortably ahead by 58. The final quarter was all one way traffic as the Academy piled on the pain. For the NZ Hawks however - for 2 and a half quarters they were more than competitive and illustrates the improving skills and play being developed in New Zealand.
Match Details:

Westpac Stadium, Wellington 11:30am




NZ Hawks vs AFL AIS Academy

Team
1/4
1/2
3/4
Final
NZ Hawks
2.1.(13)
4.3.(27)
6.5.(41)
6.6.(42)
AIS Academy
2.2.(14)
10.4.(64)
15.9.(99)
21.21.(147)
NZ Goal Kickers: M.Lefau 2, B.Miller, A.Howison, M.Faimlalo, J.McKenzie NZ Best Players: J.Johnson, M.Faimlalo, T.Smith