Aguilas Bring Down Bullants In Colombia
Thursday, April 26 2018 @ 06:54 am ACST
Contributed by: Wesley Hull
Views: 1,761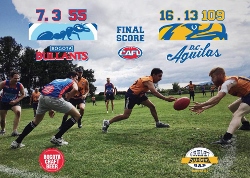 To date, the Bogota Bullants had been seen as the team to beat for the inaugural CAFL title in Colombia. But the DC Aguilas changed that yesterday with a powerful display against the previously undefeated Bullants, leading early and going on to record a powerful 54-point victory. It sets the scene for a huge finish to the season.
According to the Bogota Bulldogs, "with the Bogota Craft Beer Tours Bullants wanting to continue their undefeated run and the Gourmet Burger Bar Aguilas having made it out of their last match brutal victors [against the Bombers], both sides had a lot to prove coming into this showdown."
"After the first half had kept things relatively even at 33-41 to the Aguilas, the flood gates opened in the third quarter. After a crucial injury to Bullants captain James, and Aguilas benefiting from a full bench, Sam Miller led the charge, scoring a number of unanswered goals. The midfield opened up and the Aguilas were able to control the play. The Bullants tried their best to even up the play in the fourth quarter, but by then the Aguilas were able to hold their dominant lead at 55-109."
"This leaves the Bullants and Aguilas vying for top of the ladder with two wins to one loss each. After the break with training this weekend, the Bullants will surely be hoping to nip this in the bud against a vengeful Blue Studies International Bombers."
Final Scores: DC Aguilas 16 13 109 d Bogota Bullants 7 3 45
Best on Field:
D.C Aguilas - Paddy Smallwood, Juan David, Andres Romero, Sam Miller
Bogota Bullants - James Karantzoulis, Andy Lee, James Moore, Andy Farrington
It will be a fascinating fight to the finish with al teams having points to prove headed towards the final decider. Certainly, the Colombian Australian Football League (CAFL) and the Bogota Bulldogs would be delighted with the success of their first season, but even better, they now have a firmly drilled and practised team to select at a national level ahead of their defence of The Andes Cup against the Santiago Saints later in the year.