North Delta Australian Football League Takes Unique Approach To Sport
Saturday, June 09 2018 @ 06:56 am ACST
Contributed by: Wesley Hull
Views: 2,453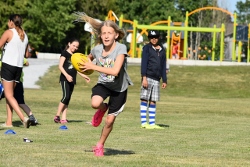 Australian Football has again captured the attention of Canadian media in this excellent and enlightening story from Grace Kennedy at the North Delta Reporter in Vancouver. The work of Mike McFarlane and his dedicated team at North Delta has long been known within Australian footy circles, but more and more  their work is capturing the imagination of an ever-increasing public.
"The local league is perhaps the largest in North America, and holding strong."
From a distance, the group of kids kicking a ball back and forth on the Gray Elementary field look like they are practicing soccer.
Walk a little closer, and you notice the ball is definitely not a soccer ball. It could be a rugby ball, with its oval shape and bright colour. Look across the field, and another group of athletes are in a star formation, practicing drills. They could be practicing football, passing the ball back and forth in a criss-cross formation.
But it isn't. When they pass, they punch it like an underhand serve in volleyball, and when they run down the centre, they dribble it like a basketball on a grassy court. 
These hundred kids aren't playing a made-up game on the school field. They are part of the largest league of junior Australian Football in North America, which runs from March to June each year: the North Delta Junior Australian Football League. 
Australian Football, also known as Aussie Rules or Footy, is a contact sport that combines aspects of soccer, rugby and football, along with skills found in basketball and volleyball. It's fast-paced, which caught league founder Mike McFarlane's interest when he was first introduced to it back in 1982. 
"It's just so different," McFarlane said about the sport. "There's always some motion going on in it … It brought everything that I liked about sports in the same field all at once."
McFarlane played Footy for much of his adult life, and eventually introduced it to his son's Grade 5 class. That, it seems, was an auspicious moment for the future junior Footy league.
"I didn't have much choice," McFarlane said about the start of the league. "In September, a whole bunch of kids came to my door … and said, 'We want you to start a league.' And I said, 'I don't know how to do anything like that.'
"They looked at me, and honest to God the words out of their mouths were: 'You're an adult. Figure it out.' And that was the beginning." 
The league held its first season in 2003, just McFarlane's son and some friends. But soon the unconventional sport grew, reaching 160 players at one point, although McFarlane said that was too much. 
"We found that with our limited coaches, we didn't give the kids what we wanted to give them," he explained. "We don't want kids to come here and get lost in the shuffle." 
Now, the league averages between 100 and 120 players, a manageable number for the coaches who have all grown up through the league. 
McFarlane's daughter, Hanna, is one of them. She's been playing since 2004, and has been a coach for the last six or seven years. 
"We really work on focusing on the skills and the playing, as opposed to the aggressive side or the contact side of Footy," Hanna, 23, explained. That's important because of the makeup of the Footy league. 
North Delta's junior league is co-ed, bringing boys and girls together in three different age groups. During the weekly practice, the four U12 teams, the two U14 teams and the two U18 teams all play together. On the weekend games, they play against each other, making for a friendlier atmosphere, Hanna said. 
"In most sports, you never see the people you're playing against until you're on the field," she said. "Here, everybody practices together." 
"It makes it less of a competition and more of playing for fun and playing to learn the sport," she continued. 
Of course, not all the players feel that way. 
"We're all super competitive and have become friends with pretty much everyone here," Jessica Sandberg, 16, said. She is a coach for the U12 teams, as well as a player on the U18 and women's teams. 
"So when we play against each other, it kind of makes it more competitive I guess, because we know each other and are friends with each other." 
The original story can be found at: https://www.northdeltareporter.com/sports/north-delta-australian-football-league-takes-unique-approach-to-sport/
Story and photo credits: grace.kennedy@northdeltareporter.com