Historic Grand Final For Colombia
Friday, June 15 2018 @ 06:34 am ACST
Contributed by: Wesley Hull
Views: 1,903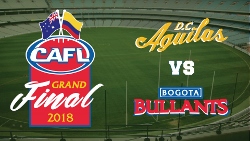 The inaugural season of the CAFL (Colombia Australian Football League) will come to a satisfying close this weekend when the nation's first ever Aussie Rules grand final will be played in the capital city of Bogota. It will bring to an end a season were Aussie expats have blended beautifully with local Colombian talent to see the rise of the game in South America that only a couple of years ago was a dream.
The match will feature the Bogota Bullants up against the DC Aguilas. The Bogota Bombers missed out on reaching the big day, yet remained a highly competitive third team, even downing the Bullants along the way.
AFL Colombia president, Paddy Smallwood, previews the match.
"The grand final should be a solid affair. The D.C Aguilas are coming in favourites off three wins on the trot, and the Bullants' last game being the bloodbath [against the Bombers]. The Aguilas team has been a consistent group all year, which has allowed the drastic improvement of their fleet of Colombian guns."
"The Bullants started with a very powerful team, but injuries and some big names returning home to Australia has flipped their season upside down."
"For the final, the Aguilas go in with a very similar team to the one they have had all year. While the Bullants regain their captain James and a number of other important players who were absent in their last belting at the hands of the Bombers."
"The Aguilas go in very much with the psychological edge, but I do expect the Bullants to give it a good crack and have a high possibility of causing a huge upset."
It will be a great way to bring a wonderful debut season to a close for the Bogota-based Colombian competition. It is a credit to all organisers, players, volunteers and supporters who have banded together to firmly plant the Australian football flag in Colombia. They compliment the wonderful work of their brothers and sisters in Chile, the Santiago Saints, seeing the game with strongholds now in two South American countries.
After the grand final, attention will turn to the Bogota Bulldogs team and their defence of the Andes Cup against the Santiago Saints on 25th August in Bogota. The game will be played as part of the South American Cricket Championships, making for even greater exposure for the game.