New AFL Colombia Season Gets Under Way
Friday, August 03 2018 @ 12:52 pm ACST
Contributed by: Wesley Hull
Views: 1,587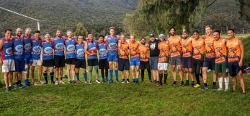 The second instalment of the AFL Colombia competition got under way last weekend. Just weeks after the DC Aguilas held aloft the inaugural premiership, teams returned to the playing field in Bogota for the second "season" for the year. Paddy Smallwood from AFL Colombia sent the following report after the Agulias took on the Bullants.
"The rematch of the teams from the last Grand Final proved to be a real livewire for both the Gourmet Burger Bar Bogota D.C. Aguilas and the Bogota Craft Beer Tours."
"With the Aguilas facing off against what was once their star player Sam Miller but also incorporating the mercenary ex-vice captain of the Bullants Tristan Quigley, there was certainly some tension between the two outfits."
"The first quarter got off to a cracking start, with Tristan playing up front, benefiting from some Bullant mistakes to knock off a couple of goals. The Bullants dominated in the midfield and there was some great marks up front by Andrew Heath Sloan, but while there was the same number of shots on goal between the two, The Aguilas proved to be the more accurate. Aguilas finished the quarter 37 to 28."
"It was during the second quarter that the Bullants really locked in, running away with the match 9 goals to 1 thanks to excellent work up front from Oscar Marin and Amir Nissen and a clash taking Aguilas Captain Paddy Smallwood off the field. This ended the half with a crushing 85-44 lead to the Bullants."
"While other teams might have been undone by such a lead, the Aguilas tucked in and managed to even up the ledger. They knocked in four goals to the Bullants six, thanks to gutsy efforts from James Moore and never to be underestimated Dean Wiltshire. It would have been more if it wasn't for some inspirational defence by the Bullants, anchored by Felipe Mojica Aranda who held off an intense sustained effort in the Bullants half. Paddy tried to return to the field but eventually was forced to retire due to his knee injury."
"The last Quarter wasn't able to be turned around, but the Aguilas continued to play well as both teams started to run out of steam. The Bullants again suffering to inaccuracy as they hit 6 behinds to their 5 goals and the Aguilas running up 2 goals to finish the game at 161 to 83."
Best on field:
Bogota Bullants - Yesid González, Felipe Mojica Aranda, Sam Miller
D.C. Aguilas - Alex Raf, Torres Sergio, James Moore
The Bogota Bombers get their chance to extract some revenge against the DC Aguilas when the teams meet this weekend at Manzover in Bogota. Likewise, the DC crew will be keen to atone for their defeat at the hands of the Bullants and get their new season back on track. A fascinating match of football is assured.