American's Aussie adventures aiming for Revolution
Friday, August 24 2018 @ 02:18 pm ACST
Contributed by: Joe Woodyard
Views: 3,379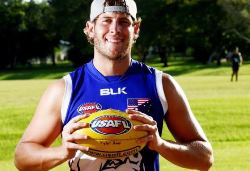 Tyler Ames was a standout player with the Denver Bulldogs of the USAFL. He then became part of an exchange program with the USAFL and is in his second season with the Montrose Demons. Recently we had the chance to catch up with Tyler.
Image Source: ntnews.com.au
Tell us about your first season (2017) at Montrose. Was it everything you hoped it'd be? Did you feel like you got better each week?
My first season was an amazing experience. It took me a fair amount of time to settle into the standard of the league and really learn where I needed to be positioned on the field. For most of the initial games, I really struggled getting around the ball and even started many games from the bench. I'm sure I was much like watching little kids play chasing the ball around the ground without getting much of the ball. Fortunately as the season progressed I really started to find my form a bit. I was able to get around the ball and impact plays with my size and physicality and was even able to snag around 6 goals for the year most of which came in the back half.
Were you on the reserves roster or the seniors roster in 2017? Which are you slated for in 2018?
I only played in the reserves and really focused on simply improving my game and working hard to better my skills and understanding of the game. Although a bit of a pipe dream, making a Senior game in Division 1 of the EFL, has always been my goal that I'm working towards. I started in the Reserves for the 2018 season but am hopeful that I can simply continue to improve and at least give myself an opportunity to crack into the Senior side.

What about when the lights are off? What have you enjoyed about having down time in Australia?
When I'm not playing footy and working, which seems to consume a good amount of my time, I've been able to really engrain myself in the Melbourne lifestyle. I love to adventure and try new things so Melbourne is the perfect city because there is always something to do, eat, or see. I've created some great friendships and because of the opportunity to live with an Australian family and play footy, I've really been able to take on the life of a local Australian. My Australian parents and brother Sean have become a second family and I've found a beautiful Australian girl who consumes the rest of my free time. I really rarely have down time in the sense of the word as my days seem to be filled from early mornings till the lights go out for bed.
How did you set about becoming a better player during the offseason that followed season 2017? Tell us about your regimen.
I worked extremely hard during the offseason to improve and prepare myself for this season of footy. I started working out at a local gym with a few teammates and my daily routine is to wake up at 4:30, workout at 5:00, shower and get to work by 7:30, work till 6:00 except for Mondays and Wednesdays as we had preseason training at the club and then eat, sleep, and do it all over again. I really needed to work on my endurance as my size was already an advantage, it was more of a focus on being able to run out games and add the next layer to my game via fitness.
Have you had any interactions with AFL teams/players/staff? How about meeting Mason Cox or Jason Holmes?
This is one thing I really wish I could have done or would like to try and do more, I'm really fortunate as my Australian brother Sean Buncle works for the AFL so we are able to go see games regularly. I've also had a lot of funny run-ins randomly with AFL players (many times with no idea who they were, like chatting with Stevie J (Geelong champion Steve Johnson) at a bar for a long time after asking him about his Chicago Bulls hat).
But as for formal meetings or practices with clubs, I haven't had any opportunities to interact with teams here. I have met Mason a couple times as we played against his brother who plays for the Austin Crows many times back in America. My footy team also has guys who have either played with AFL or VFL sides so I do pick their brains often regarding their experience.
How do you explain footy to friends and family back home?
It's really difficult to explain football to someone who's never seen it. They either assume it's like soccer or rugby and it's difficult to conceptualize a game that takes so many qualities from other sports and combines it into one. With that said, the easiest way to explain it is by saying that it's a full contact game structured much like soccer with forwards, mids, and defenders using the entire 180-yard length field to work a rugby type ball through their goals by kicking or punching the ball any direction to teammates. It's obviously so much more complex than that but after about the 50th time trying to explain what I'm doing and why, I've given up and generally end up just showing people highlights on Youtube.
What has been your biggest surprise?
It's really hard to tell as truthfully, everything has been a surprise in one way or another. From the culture to the experiences, it's all been so incredibly different to what I was used to before coming here. Now that I'm starting to get used to things however, this is starting to become the norm and life feels like I've settled in nicely. I suppose my biggest surprise in reflection though is just how much better I've gotten as a player. I can't believe the improvements I've made in both my skills and understanding of the game. Too look back on when I first picked up a footy and just how bad and oblivious I was, it's cool to reflect over this journey and see how far I've come in such a short span of time.
It's so much different this year going into the season as I actually have a reference point and I know what to expect. Last year I was just taking it as it came and holding on for dear life whereas this year I really hope to take it on my terms and find success through my now understanding of what's to come. We have a new coach and many new players this year so it will add that level of unknowing, but it's great knowing I'm going to be taking the field with a lot of teammates and friends I built great relationships with last year. Hopefully I can just keep building on my development to this point and really make the people who are backing me and who've made this dream a reality proud.
Two months ago I earned the title of captain of the Reserves team! This was one of my biggest honors and I still can't believe I'm so fortunate to be able to lead my brothers into each and every game. We started the season off slowly going 1-7 but in the last 5 weeks we've gone 3-1-1 (currently they sit at ninth on the ladder at 5-11-1). I've also been playing my best footy to date and have been named Best on Ground a couple of times. I'm still pushing hard to be considered for the Senior side but with my improvement and motivation, this is much less of a pipe dream than it was even at the start of the season (and seems even more unbelievable in reflecting back to not even being able to start in the reserves at the beginning of last season). I've faced some adversity in my health this season as I fought through an extruded S5/L1 vertebra in my lower back during preseason, I've broken my nose twice, I slightly fractured my thumb, and I put my teeth through my upper lip. But somehow I've been lucky in that I haven't missed a game this year. It doesn't look like we'll make finals but we have a really good chance to finish off the season strong and build some momentum going into next season.
Do you hope to continue this amazing ride as long as possible?
The ride certainly has been incredible and I have no plans to stop any time soon. The International Cup is in 2020 and my biggest goal is to improve enough to secure a spot representing America in that tournament. I've been so fortunate to have been able to find so much success in both footy and in work so I do plan on staying here for the foreseeable future. I hesitate to plan anything out too long term but with the way things are going, I definitely hope to continue playing footy out here for as long as my body allows and I'm only getting more healthy and fit as I go.
You can read more of Joe's work at Play On! An Australian Rules Football site