Star In Stripes: US Reacts To Big Pies' Performance
Friday, September 28 2018 @ 05:59 pm ACST
Contributed by: Wesley Hull
Views: 1,954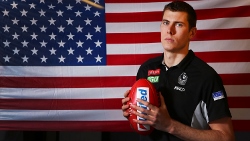 Marc McGowan reports on the www.afl.com.au website about the reaction in the United States to the extraordinary success of Texan, Mason Cox, ahead of his AFL Grand Final appearance tomorrow. Cox has already captured the imagination of Australians, but as the AFL's biggest game of the year draws closer, Americans are realising the magnitude of his achievements.
AMERICAN Mason Cox's extraordinary Australian football journey to Saturday's AFL Grand Final is finally gaining traction in the Collingwood giant's home country.   
The United States media's relative lack of interest until now pales in comparison to the fanfare the 211cm forward has long received in Australia.
Cox, 27, is a source of fascination in AFL circles as one of few Americans to play the game at the highest level, particularly since making his debut in front of 85,082 fans on Anzac Day, 2016.  
The remaining doubters on his football worth were surely convinced as he clutched 11 marks (eight contested) and kicked three goals in last week's preliminary final win over Richmond. 
US media outlets have picked up on the Dallas-raised Cox's feats and detailed in various ways the Texan trailblazer's unlikely foray into professional sport.
Deadspin, a widely read blog that offers left-field sports takes, resorted to a cringeworthy description of Cox's involvement in the Australian game. 
"Cox runs, times leaps that leave him breathing thinner air than anyone else on the field, then escorts the ball down to earth while normally jacked and competent athletes paw helplessly at him from all sides," Giri Nathan wrote. 
"It's like watching Chewbacca play a game of 500 (cards) with a clique of Ewoks who have not yet learned to cooperate. Even coming into the sport with fresh eyes, it's an absurd spectacle." 
The New York Times ran a Reuters article that reads: "While virtually unheard of outside the country, Australian Rules football is hugely popular in the nation's southern states, and top flight matches regularly draw massive crowds to watch the fast-paced and often bruising game." 
The Washington Post and Tampa Bay Times both ran a news wire story written by AP journalist Dennis Passa, who compiled a piece after last week's preliminary final, too.  
Concessions were made for the readership. 
The Magpies are playing for a "title" rather than a premiership, it was a semi-final and not a preliminary final and the Grand Final was referred to as "the championship match"
Australian journalist Richard Hinds also wrote a story on the former soccer player and collegiate basketballer for Sports Illustrated's US website, where he understandably defines what marking and handballing are. 
The closest Australian equivalent to what Cox is achieving is one-time NRL hopeful Jordan Mailata.
Mailata, 21, joined Philadelphia via the NFL Draft in April this year before making the Eagles' 53-man roster in a stunning rags-to-riches rise. 
The ex-South Sydney under-20s rugby league player writes a News Corp column and every step of his NFL career, and leading up to it, is reported on in excruciating detail.
Much like Cox, Mailata had never watched his adopted sport and knew little of it until a series of events conspired to draw him to gridiron. 
Marc McGowan's original story can be found at: http://www.afl.com.au/news/2018-09-28/star-in-stripes-us-reacts-to-big-pies-performance