North American footy world descends on Racine
Tuesday, October 09 2018 @ 11:10 pm ACDT
Contributed by: Troy Thompson
Views: 1,763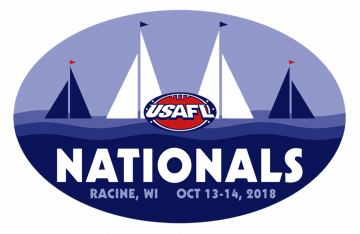 The USAFL's National Championships will see seven divisions of men's and women's footy in Racine, Wisconsin over the coming weekend, October 13-14 at the SCORe Complex.
This year's tournament features 45 teams spanning seven divisions, representing nearly forty clubs across the USA and Canada. Two women's divisions, four men's divisions and one men's reserves division.
Everyone will be out to hunt down Golden Gate who took out the 2017 titles in both the Men's and Women's Division 1. And those divisions are very strong with six stand alone clubs in each all eager to take that title.
As has been the format throughout most of the tournament's history the ability for those clubs that cannot bring a full squad to combine with other clubs and both participate and compete for a title.
The weekend that is very much a festival of football will as always be full of special guests, such as the AFL's Mason Cox, AFLW's Sarah Perkins, as well as media, umpires, spectators and supporters travelling from Australia.
The streaming coverage continues to evolve and improve every year and those that can't make it to Racine can stream matches live from two of the grounds from anywhere in the world. The streams can be found here - http://golivesportscast.com/2018/10/live-on-espn3-usafl-nationals-sun-oct-14th-2pm-eastern/
For all match results and Brian Barrish's previews and daily reviews go to www.usafl.com
Time
Event
Location
Friday, October 12
9am - 4pm
Administrator's Conference
Delta Hotel Salon A
1pm - 5pm
Coaches Clinic
Delta Hotel Lake Ontario room
1pm - 5pm
Umpires Clinic
SCORe
1pm - 4pm
Development Clinic
Delta Hotel, Lake Erie room, then move to fields
2pm - 4pm
Women's Skills Clinic
SCORe
4pm - 4:30pm
AGM
Delta Hotel Salon A
6:30pm - 11pm
Player Registration & Dinner - Pasta Buffet - $15
Delta Hotel Grand Ballroom
8pm - 9pm
Official Welcome Function, Awards Presentation
Delta Hotel Grand Ballroom
9pm
Coaches Meeting
Delta Hotel Salon A
7pm - 11pm
Umpires Meeting
Delta Hotel Lake Huron AB
Saturday, October 13
8am
Player Check-in Opens
SCORe
9am - 6pm
Day 1 of Competition
SCORe
1pm
Kids Clinic
SCORe
Sunday, October 14
9am - 6pm
Day 2 of Competition
SCORe
12pm
Masters vs Legends
Field 3
1pm
Division 3 Final
Coopers Field
12pm
Masters vs Legends
Field 3
3pm
Mateship Match
Field 2
1pm
Division 4 Final
Field 4
2pm
Division 2 Final
Coopers Field
2pm
Women's Division 2 Final Match
Field 2
3pm
Women's Final
Coopers Field
4:15pm
Division 1 Final
Coopers Field
5:30pm
Awards Ceremony
Coopers Field
8pm
Official After Party
Pub Crawl