New York Times Features Mason Cox
Friday, October 12 2018 @ 07:16 am ACDT
Contributed by: Wesley Hull
Views: 2,337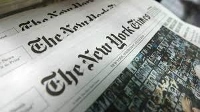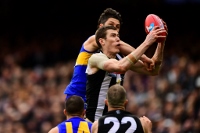 You know you are finally cracking the veneer of the American sporting market when you have the attention of the New York Times. On the eve of the USAFL Nationals in Racine, Wisconsin, that is just what is happening with journalist S B Tang getting Collingwood's American Pie onto the sports pages of one of the biggest and widely read newspapers in the United States.  
Below is an extract from Tang's story. To read the article in full, go to: https://www.nytimes.com/2018/10/08/sports/mason-cox-football-australia.html#click=https://t.co/MOUZRQyQGb
How an American Basketball Player Became a Star in Australian Rules Football 
MELBOURNE, Australia — As Mason Cox sprinted toward the football, one thought ran through his mind: attack it.
 He leapt up onto the back of the defender in front of him, using him as a stepladder to bring himself closer to the dropping ball. He timed his leap to perfection, turning his 6-foot-11 body into a long crane, and plucked the yellow, oval-shaped ball out of the night sky. 
It was a clean and pivotal mark, or catch, 25 meters (27 yards) out from goal in an Australian rules football match. Cox would finish that game with eight contested marks — the second-highest ever in an Australian Football League playoff game — and three goals. His team, Collingwood Football Club of Melbourne, won that playoff game but lost in the grand final — Australia's Super Bowl — the next week. 
Yet Cox stood out for another reason: He is an American, from Highland Village north of Dallas. In the last five years, a handful of Americans, generally tall men performing a specialized role, have been contracted by A.F.L. clubs. By the beginning of the 2018 season in March, Cox was the only one still left in the league. 
He has become a bit of a sensation in Australia, a fan favorite whose goals are often met with chants of "U.S.A.! U.S.A.!" He has been welcomed in part because Australians would love to see more global recognition for their homegrown sport. He has also shown a playful embrace of the country, wearing a "Crocodile Dundee" outfit to a team party and joking on Instagram, "I think I qualify for citizenship now." (Cox intends on beginning the process of becoming an Australian citizen in December.)