Aloha, Australian Rules Footy – Hawaii The Start Of Something Big
Saturday, November 10 2018 @ 10:37 pm ACDT
Contributed by: Wesley Hull
Views: 2,679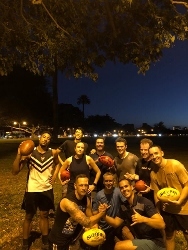 Last week, World Footy News reported on the arrival of a new centre for Australian Rules football. Hawaii, better known for Pacific holidays, Pearl Harbour, Waikiki Beach and Kilauea, has some hardy enthusiasts getting together in Honolulu to create a new club – a club that could potentially develop like no club before it. 
Dallas McCulloch isn't your average footy player. But his drive, along with a great team around him, is making positive things happen. They are onto something. Our interview with Dallas and his vision for the future makes for some very interesting reading. 
The prospects of a Pacific-wide Australian Rules football competition have been discussed for many years with many locations touted as potential venues. However, the arrival of Hawaii as a football destination might just add another dimension to that argument. 
Here is our chat with Dallas.
 Hawaii…what a backdrop for a footy club. How did the club come about in such a location?
Our literal backdrop for footy is Diamond Head Volcanic Crater that dominates the skyline of every postcard of Honolulu ever made.   We play at Kapiolani Park in Waikiki, so it's pretty hard to beat the scenery around here for sure.  We have a crew of people from all over Australia, Baltimore, Tennessee, Turkmenistan, Canada, Texas, New York, Seattle, etc. and we all wound up living on this little rock in the middle of the Pacific. 
This game is amazing, everywhere else in the USA has a team, so we figured why not usω  A few former USAFL players got together with some people from the Australian Consulate, we started hitting up people we know, and it's building up. 
What is your own background and interest in the game? 
I used to come home just hammered drunk while living in Grand Rapids Michigan at like 3am back in 2009.  I had this small attic apartment on the 3rd floor of a giant Victorian home split into smaller units that I couldn't really afford after my ex girlfriend had moved out.   
Part of being super broke meant not having the internet, cable TV, or anything like that; however, I did have an antenna on my old school TV.  I had about 8 channels that I could pick up, and 4 of them were PBS (Public Broadcasting System).  Sometimes PBS 3 or 4 would play AFL games super late at night, so I'd drunkenly watch it while having no idea what the hell was ever going on.

Fast forward to 2015 and I had been living in Austin Texas for a couple of years, and I decided to apply for an Australia working holiday visa.  I figured I should meet some Aussies and familiarize myself with the culture a bit before going, so I took a shot in the dark and searched for an Aussie Rules Football club in Austin.  The Austin Crows met up at a park not too far from my house, so I met up for a kick and was hooked.  The boys were a mix of Aussies, Americans, and a few others from all over. 
 I had been playing in punk rock bands and on tour for my whole adult life, so I hadn't been on a sports team since I was 12 and replaced athleticism with skateboarding, malt liquor, and punk rock.  I really enjoyed the game since it allowed a guy with my build to do thrive.  At 183cm and 80kg I realized I'm never going to play in the NFL, but even most pro AFL players are pretty close to my build.  I had done a lot of endurance running and biking, and the sport really played to my ability to just keep going.

I moved to Australia in 2016 with the goal of playing as much footy as possible.  We'd play in the streets in Thornbury at friend's houses, I'd bring my ball to punk rock backyard BBQs in my yard in Coburg, and I'd take my Sherrin up to Coburg Oval to practice shots on goal in a nice VFL field.  I started training with the North Brunswick Bulls in early 2017, and those guys were amazing.  Everybody had been playing since they were 3, and I hadn't touched a footy until I was almost 30.  I was the only American to ever walk into that club house, but the boys didn't care about that.  They accepted me into the club and helped me improve my skills a whole lot. 
As it stands, how many people have you gathered to build your club on and off field? 
We have had probably close to 30 people out to play at some point in the past couple of months.  The most we've had at any single practice so far has been 12, but it keeps growing!  This was just an idea in my head only 3 months ago, so I'm excited to see where it goes if it keeps growing at this rate. 
You mentioned your desire to explore a Pacific-wide tournament. Can you detail the dream a little from your perspective as I think this is a BIG hook for interest? 
We are in the middle of everything, and we are one of the most high demand vacation spots on earth.  I travel around the world with punk bands for a living (when I'm not in school), and I can go anywhere and tell them I live in Hawaii and they know exactly what it is.   
We are very conveniently located in route between Australia and North America, but we're also not that far from other Pacific Islands as well as Japan and the rest of Asia.  I'd love to see some beautiful tournament with a Kiwi team vs. Samoa, Japan vs. San Francisco, Vancouver vs. Taiwan, Hawaii vs. Singapore, not to mention all of the Aussies that could come out here and join the huge number of Aussies that already live or vacation here.
Within Hawaii, what are the prospects for the short and long term future?
Short term we're just building up our numbers and showing up regularly.  We have a decent core group of people, but we're recruiting more and more.  We show up every Wednesday, and sometimes meet up on other days for a kick.  After practice we're usually cracking a few tinnies and having time to talk shit with each other.  We're trying to build a community, not just have a quick workout sometimes.  We're formulating bylaws to become a registered non-profit corporation, and have to do all of the fun bureaucratic things involved with that.  While it's boring to deal with the legal side of things, it is necessary to enable us to succeed in the long run.

Here are some long term goals starting with what can be done soonest: Have a metro club match (we're figuring out dates to reserve the field, keep posted), become a legal entity, recruit enough players to field a real team, play a USAFL tournament on the mainland, host some USAFL teams or teams from wherever for a tournament out here, then the next step is to get crowds of 50,000 to watch us, so we can start an AFL expansion team and win back to back Grand Finals!
Whilst ex-pats are often the starting point for growth of our game, do you see markets for getting kids involved, even just with things like Auskick style events?
We haven't really targeted children at this point, but we do recognize the success of this game will be in recruiting people younger than our core group.  While I'm in my 30s, I do attend University of Hawaii and have brought some younger college students out who are helping to make up our group.  We've also had some Australian members of University of Hawaii and Hawaii Pacific University basketball and football teams come have a kick and/or join our Facebook group.   
The bulk of us are married, have real jobs, quite a few of us have kids, quite a few of us graduated from college years ago, etc.  It's mostly an excuse for us to do something active sometimes and have a few beers with the boys (or girls, since we have quite a few women playing with us too.) afterward.

I really hope we can build this up to the point where we can get some kids interested in this sport.  Polynesia including Hawaii has a long history of putting up a huge number of pro American Football players as well as Rugby players.  I don't see why AFL stars shouldn't also be coming out of here.
Anything further I haven't covered that you might like to add? 
Link up our Facebook (https://www.facebook.com/groups/277940929599866/ ). If you have some mates coming out for a holiday, have them come join us for a kick.  Where we play is a quick walk from all the tourist hotels, and across the street from the beach.  As of now we're meeting Wednesdays at 5pm @ Kapiolani Park (Paki & Monsarrat).  We're open to all people regardless of sex, race, religion, nationality, sexual orientation, experience with footy, etc.  Have a kick, it'll be fun. 
You can also get in touch with the Hawaii AFRC through Meetup at the following link: https://www.meetup.com/Hawaii-Australian-Rules-Football/