Six Of The Best – Mozzies Take AFLCNE Flag
Monday, July 22 2019 @ 10:33 pm ACST
Contributed by: Wesley Hull
Views: 32,815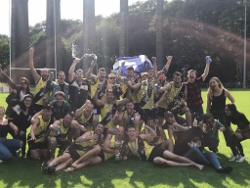 In recent years, write-ups about the run of Manchester premierships has always had a thinly veiled subtext that suggested that they might be reaching the end of their run of success. Well, if that's true, it hasn't happened yet. On the weekend, the Manchester Mozzies claimed their sixth successive AFLCNE premiership.
If they weren't already in rarefied air worldwide after five flags, six in a row takes them to an even higher place.
The Mozzies downed a gallant Wolverhampton Wolverines team – themselves playing in their maiden grand-final. Despite the best that the Wolverines could throw, the Mozzies won comfortably by 52 points. According to the club, however, the game was much closer than the scoreboard suggested.
"Fantastic contest. Extremely physical game with the pressure applied by both side the most intense we have played in. We got away to a quick start that didn't help the Wolves. They were great and the final margin doesn't reflect how close it was and felt."
The final score saw the Manchester Mozzies 95 defeat the Wolverhampton Wolverines 43.
The past six years have seen a consistency rarely seen across the world from the Mozzies. During that time they have been challenged on grand-final day by the Wolverhampton Wolverines, Nottingham Scorpions, Sheffield Thunder and Huddersfield Rams. All have given everything but none have found the way to defeat the Mozzies.
Already it is difficult to see where the next challenger will come from – that is how dominant the club has become.
The Wolverines will find it tough to lose, but as they have stated on their Facebook page, "the disappointment felt yesterday is far outweighed by the pride in reaching the final for the first time. Congratulations to [the] Manchester Mosquitoes who continue to set and raise the bar for the rest of us."
The AFLCNE clubs and league will now go into their off-season of post-season tournaments and matches before lining up again for 2020. However, work will be done by all clubs to try and close the gap on the Mozzies and bring their reign to an end.