Operation: Pakistan
Tuesday, August 27 2019 @ 11:42 am ACST
Contributed by: Wesley Hull
Views: 1,698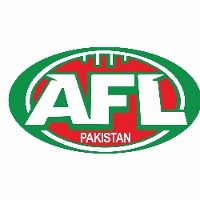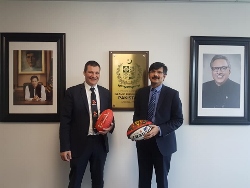 His mission is simple. Go to Pakistan, meet with the people who can grow the game in the nation and work with coaches, players, administrators and potential supporters of the game to further develop AFL Pakistan's great work to date. Michael Gallus is the man on the mission, and is the right man for the job.
Michael Gallus is already widely known as the founder and administrator of the Footys4All Foundation, a charity that has already distributed sporting equipment all over Australia and the world. More recently, however, Michael took the coaching reins of the Pakistan Shaheens women's team at the IC17 event in Melbourne.
He has maintained contact since then, both with players and those off-field, placing him in a position of both knowledge and connections to drive the rapid development of the game taking place across Pakistan.
Michael took the time recently to discuss the trip, and why he is going as the voice of the AFL into a country that has only recently taken the game on, yet has massive potential for growth.
"Through my volunteer role as the Pakistan Women's AFL national coach I have just received my visa to visit Pakistan in a world first to grow the game of AFL and promote Australia. This has never been done before. I will be travelling the country running clinics and growing the great game of Australian Rules football. [I am also] organising to meet with Pakistan President Imran Kahn and the Australian High Commissioner about growing the game of AFL in Pakistan too.
"I have already met with and got support from Pakistan Melbourne Consulate General. I will also be meeting female Pakistan UN representatives and community leaders to support their work in equality for all."
"Additionally, I will also be promoting Australia and my own work with Footys4all focusing on the power of sport in changing lives at Islamabad Universities and local schools in Pakistan."
"The purpose of trip to grow awareness and develop AFL in Pakistan through player and coaching clinics of male and female participants as well as running clinics in schools and distributing Footys4all footballs and a collection of books from Footys4all, Tony Wilson and the Selwood brothers to kids to develop footy skills and improve English. I will also be lecturing in a variety of universities about Australia/Footys4all and sports diplomacy."
"The AFL is supporting the trip through a donation by Simon Highfield of senior and junior footballs, coaching manuals and AFL hats and polo tops to give to kids. Thanks also go to AFL Pakistan, and to President Sardar Tariq, who is sponsoring the trip with plane fares, accomodation and catered food."
Michael will be running coaching clinics to identify Pakistan talent for AFL IC 2020 September 16-17. The rest of his itinerary in Pakistan is packed with promotional opportunities for the game.
Multan - National training camp (Men and Women) and National league final
September 18 – Lahore - Training Camp for local club players
September 19/20 – Islamabad - Training camp for local club players
Michael will also be doing some volunteer work with leading Pakistan female disability advocate Muniba Muniza Abiha Haider – also involved with the Shaheens IC17 tour.
"I hope to achieve further improvements with our positive relations between Australia and Pakistan. I also hope to improve coaching techniques of AFL football with Pakistan participants and further hope to improve skill levels of Pakistan AFL footballers."
Michael is even getting down to the nitty gritty of rules and tactics of the game. "I want to improve knowledge of AFL football in regard to rules, positions, strategies and styles of play with Pakistan players. Additionally, an aim is to improve knowledge of culture and diet and training drills of all players."
"My AFL Pakistan role is to facilitate running AFL Level 0 coaching courses and training drills. There will be game simulations in three locations - Karachi, Lahore and Islamabad. They will also facilitate media interviews to grow awareness of my visit and the great game of AFL."
This is a massive undertaking, but one that has the potential to accelerate the growth of the game. Already, under the guise of AFL Pakistan, a local competition exists across the country featuring teams from Islamabad, Kashmir, Punjab and Rohi Jahan. Their tournament in Bhurban, Rawalpindi, in July was a step towards selection for the national teams to attend the IC20 in Melbourne next year.
Michael will also be hoping to catch up with the amazing Saliha Baig Jaturi, renowned for her amazing work to bring Australian Rules football to the remote mountainous regions of Pakistan, reported in our story
Inspirational Woman Gaining Accolades
as well as
Inspirational From The Pakistan-China Border
.
Michael is undertaking a huge mission and one that could have enormous impact on the further growth of our game across Asia.
Picture (top): Shaheens Female Team Head Coach and Founding Director of Footys4All Michael Gallus met with the Consulate General of Pakistan, Melbourne His Excellency Mr. Sardar Adnan Rashid.