Two Argentines set for World XVIII
Wednesday, June 02 2010 @ 10:05 pm ACST
Contributed by: Brett Northey
Views: 5,369

Player agent Peter Jess has conducted the first AFL talent camp in Buenos Aires, as previewed in Search for talent in Argentina. A video from Argentine news site La Nacion appears below.
worldfootynews.com also caught up with Peter Jess (see below) and was keen to ensure that local footy organisers in Argentina and Chile made contact with him. That has happened and hopefully will be the start of a good working relationship that might help push Aussie Rules forward in South America. Jess has confirmed that two exciting young talents have been selected to head to Australia to compete in the World XVIII in the NAB AFL Under 16s.
The link to the above video is Fútbol Australiano : Buscan talentos en Buenos Aires (Australian Football: Looking for talent in Buenos Aires).
The two players to go to Australia are 17 year old Cristopher Daniele, a Boca Juniors youth team soccer player, and 18 year old Rugby player Lucas De Vincenzi who is playing for the Buenos Aires representative team. Both registered excellent results in testing. If they do well the West Coast Eagles will consider rookie listing them, although both will be hard to draw away from their existing codes.
Jess was unaware of the embryonic local leagues until arriving in South America. "I had found out about both Argentine and Chilean leagues once I arrived here". Initially there was no contact but Jonathon Barlow (Argentina) is understood to have attended the camp and soon Jess was in contact with Adrian Barraza (Chile) via email. Jess told WFN that he hopes to "assist in having Chilean players be made part of the next camp, along with the Brazilians". Barlow will assist with training the two young players selected for the World XVIII.
In terms of turn out and future plans, Peter Jess explained that there wasn't a lot of time to organise the first camp but they will return. "With the time constraints for the World Team selections it was ok. We know that the best talent congregates in November/March period, so we will reschedule one trip for that period this year". The initial thought is for a five year plan. Jess is also pushing for the AFL to have a pre-season game in Buenos Aires, and held discussions locally about introducing Auskick-style programs.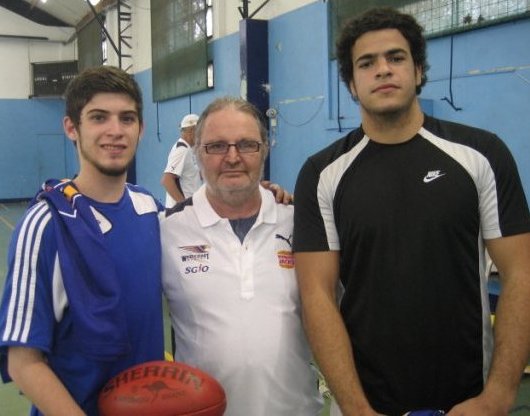 Cristopher Daniele (left) and Lucas De Vincenzi (right), pictured with Peter Jess.