Oceania score Day 1 win in NSW State U16 Championships


The AFL NSW Under 16 state championships are underway. And, whilst the presence of both sides from the Sydney Swans Academy and the GWS Giants might be newsworthy enough to generate interest outside of NSW; there's also the small matter of the Oceania Squad making their debut in the tournament. That the Oceania lads have kicked off Day 1 with a solid 16 point win over the NSW Northern Coast side.
Oceania 7.16 (58) defeated Northern Coast 6.6 (42)
Goals : Lucas Sili (Sol Is.) 2, Villiami Langi (Tonga) 2, Aleki Palaiti (Tonga) 2 and Thomas (Junior) Joel (Sol Is.) 1.
23 scoring shots to 12 is pretty conclusive. This should be noted as an Oceania side, and NOT a South Pacific side. While there ARE players from New Zealand for example, there are no players from PNG (who are instead eligible for Queensland). This is the important distinction between Oceania and South Pacific rep teams.
The Joss (major sponsor, the Joss Group of companies) State Zone trials tournament handbook contains some good background to the various sides, their regions, the academy sides as well as a write up on the Oceania lads – quoting AFL Asia-Pacific region manager Andrew Cadzow.
"All the players selected are new to both AFL and International travel and competition," Cadzow said. "This will be both exciting and also a great opportunity to evaluate their progress." "The boys will run and attack and they learn very quickly. A week playing against quality opposition and attending outstanding lectures and training will be of huge benefit [to their development]."
The venue for the tournament is the St.Ignatius College at Riverview.
There has been publicity in the lead up ranging from Fijian press, as seen on Fijilive, "Students compete in AFL Championship" to NSW local press such as The Coffs Coast Advocate, "AFL six given chance to shine".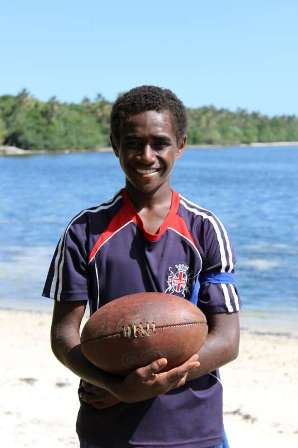 For the first time, the Zone Trials will include Sydney Swans and GWS Giants Academy teams as well as an Oceania team comprised of players from Fiji, Tonga, New Zealand, Solomon Islands, Nauru and Vanuatu.
For a fledgling AFL nation such as Vanuatu, having one representative in young Robert Toukoune (pictured) make the trip is a major achievement. Similar to Freddy Una paving the way for the Solomon Islands last year in the South Pacific squad at the NAB National U16s tournament. This year, a further two Solomon's representatives are making the trip, and as seen were amongst the goals on day one. Graeme Wilson who finished up recently as head of the Solomon's RAMSI program, was seen recently on OneTelevision speaking about upcoming international commitments of some of his young players.
* It should be noted the Swans and Giants academy teams are Under 15s. Also note, that as an example, Kane Latham of Coffs Harbour has been selected in the Swans Academy side, such that he most likely would also have made the Northern Coast side.