WFN IC11 tipping competition
Saturday, July 16 2011 @ 07:45 pm ACST
Contributed by: Brett Northey
Views: 4,022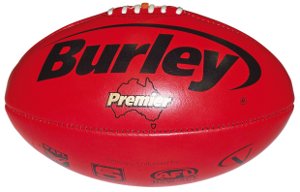 worldfootynews.com is pleased to announce a friendly tipping competition for the 2011 AFL International Cup.
It will be coordinated by one of our readers, John Hamilton. The aim will be to tip the winners for each IC11 match, with margins in the finals used to separate players who tie for the top spots.
For a bit of extra incentive we've organised a couple of great prizes from Burley Sekem. Top spot will receive a Premier football (pictured left, recommended retail price AUD$109.95) and second spot gets a Match football (pictured below, RRP AUD$39.95).
The competition will be open to everyone that is a member of our site (including WFN staff, but they are ineligible to win the prizes). Not signed up? It's free, we don't spam you with adverts, and it allows you to post comments (purely used to stop spammers). Sign up here.
One difficulty will be the short turn around times for each round, between knowing what the draw is and when tips will have to be submitted.
Read on for the details of how to enter.
The tipping competition will involve all matches from both the men's and women's competitions. The competition is open to anyone. There is no entry fee, and although we have two Burley Sekem footballs as prizes, the main intention is a bit of fun.
To enter the competition, simply click here to send an email to our ic11_tips account. Just let us know where you are from (country) and say you want to join the competition. Once we have received your email, then closer to Round 1 we'll send you a reply containing matches to tip and an explanation of how to fill them in.
Rules:
1) Tipsters are expected to tip for all matches in the 2011 International Cup. This includes both Division 1 and 2 for the men as well as the women's division.
2) If a tipster does not tip a match, they will score 0. If they miss an entire round, they will score the lowest score out of the rest of the tipsters for that round.
3) For every game tipped correctly, 1 point will be scored. If a draw occurs, 1 point will be given to all tipsters.
4) Tips must be received by 9am on gameday, but can be sent earlier when that round's draw is known.
5) For finals matches tipsters will have to choose a winner and margin (e.g. New Zealand to win by 12 points). This will be the play-off round for the women and matches on gamedays 4 and 5 for the men. The closer the predicted margin to the actual margin at full time the better (and note that e.g. tipping a margin of Team A by 10 points counts as 30 points if Team B wins by 20 points). Total margin will be used to rank tipsters that finish on the same amount of points at the end of the tournament.
6) Usual disclaimers apply, the judge's (WFN) decision is final and will use our discretion to resolve any issues. In the event of an unbreakable tie for the top tipster positions WFN will organise a "playoff" round to be advised if that occurs.
Any questions about this competition can be posted on this thread or asked by emailing ic11_tips