GWS Giants to make footprint in Prague
Monday, July 18 2011 @ 07:12 am ACST
Contributed by: Aaron Richard
Views: 2,471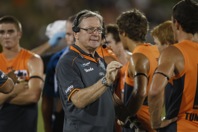 The GWS Giants have arrived in Prague with master coach Kevin "Sheeds" Sheedy and CEO Dale Holmes landing on Sunday 17th July for 3 days. Kevin is making this special trip thanks to GWS Giants co major partner Skoda whose head office is based in Prague.
"It's important to the future of this partnership that we can meet with the heads of Skoda and show them the passion and vision we have for the game and importantly the GIANTS and our hopes of turning this partnership into the best and most successful in the AFL" Sheedy said.
Importantly Sheedy feels trips such as this give him an opportunity to share his love for the growth and wider development of the game, particularly in new markets. "I'm excited to see first-hand the brilliant work being done by the local AFL Czech group and the support of AFL Europe" Sheedy continued.
AFL Europe General Manager, Ben MacCormack views the visit as a growing recognition of the opportunities that Europe presents both AFL clubs such as the Giants and the AFL itself. "Commercially Europe offers the AFL brand many opportunities and AFL Europe are continually on the lookout for partners to help promote the growth of the game in Europe" MacCormack said.
The trip will consist of a training night with the AFL Czech Lions, Skoda based events, Czech Ice Hockey training visit with an eye open on finding the first big thing out of the Czech Republic for the AFL.