WIC11 Preview - Australian squad a mixed bag
Wednesday, August 10 2011 @ 12:02 am ACST
Contributed by: Tobietta Rhyman
Views: 4,724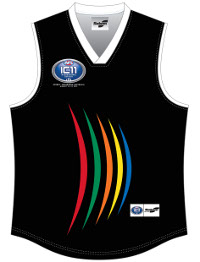 The Australian Multicultural / Indigenous team is made up of players from Indigenous and Multicultural backgrounds from all states and territories in Australia. The players have varying experience in football, from VWFL regulars, to the girls from Galiwin'ku in Northern Territory who play on sand ovals without football boots! Though most of the girls play in senior women's teams in leagues across Australia, state representatives who were selected for the Women's National Championships were not allowed to try out for the AMI team.


The Team

Head Coach: Nova Peris

Nova Peris does not have experience coaching Australian Football but is a famous Indigenous Olympic athlete who has represented Australia at both field hockey and athletics. She won a gold medal with the women's hockey team at the 1996 Summer Olympics, then in 1997 she switched to athletics and became a double gold medallist at the 1998 Commonwealth games, winning the 200m sprint and as part of the winning Australian 4x100m relay team. She has also represented Australia in athletics at the 199 World Athletics Championships and at the 2000 Sydney Olympics.

Assistant Coach: Chyloe Kurdas

Chyloe Kurdas has plenty of experience playing football in the VWFL and was once selected as an All Australian player. She is a Level 2 coach and assistant coach with one of the Melbourne based VWFL teams, as well as being AFL Victoria's Female Football Development Manager. Like many of the players she will be coaching, Kurdas is from a multicultural background. Her father is Turkish, and her mother's father is Hungarian.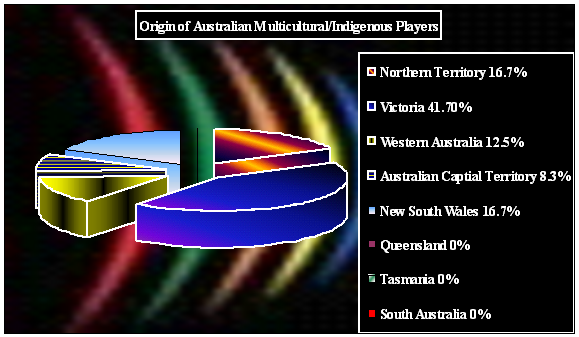 The Country

Australia was inhabited by indigenous Australians for at least 40,000 years before Dutch explorers discovered the continent in 1606, and the British colonised the eastern half from 1788. New South Wales was originally used as a penal colony, but as the population grew, the rest of the country was explored and an additional five self governing Crown Colonies were established. The population grew further during the 1850s gold rush. In 1854 the Eureka Rebellion against mining licence fees started a movement towards the colonies taking on semi-independent government from Britain. After a decade of planning, on January 1st 1901, the six colonies became a federation and the Commonwealth of Australia was formed.

In 1911, Australian Capital Territory was formed as the location for the federal capital of Canberra. There are now 8 states and territories in Australia. Each state and territory is a sovereign entity and has its own parliament. The head of government in each state is the Premier and the Queen is represented by a Governor.

Today 22,672,000 Australians live in a continent of 7,618,000 square kilometres. Though the population density is 2.8 per square kilometre, almost 80% of Australians live in the eastern states. 60% of the population lives in or around the major state capitals, particularly Sydney and Melbourne, the host cities for this year's International Cup.

Australia is the world's smallest continent and is located between the Indian and Pacific Oceans. Much of the central continent is covered by desert or semi-arid land commonly known as "Outback", making Australia the driest inhabited continent. The south-east and south-west corners have a temperate climate, and the northern coastlines have a tropical climate, and the north-east is covered in rainforest. This range of conditions within the same country, added to the length of time the continent has been separate from other continental landmasses, gives Australia the unique and rich biodiversity for which it is famous. It is also famous for natural wonders such as the Great Barrier Reef and Uluru.

As well as its flora and fauna, Australia also has a rich and diverse sporting history and has traditionally been strong internationally in cricket, field hockey, netball, rugby league and rugby union. The country is also strong both in absolute numbers and per capita at both the summer and winter Olympics. The country has hosted the Summer Olympics in 1956 and 2000, and hosted the 2003 Rugby World Cup. Other major sporting events include the Australian Grand Prix in Formula 1, the Australian Open in tennis, and the Ashes in cricket.

The game of Australian football, often referred to as football or footy, is played in all states and territories in Australia, but is strongest in Victoria, South Australia, Tasmania and Western Australia. However, the popularity of football in other states has grown recently and the game is now considered an important part of Australian culture.

Though the modern game originated in Melbourne in the 1850s, it is said by some that the game was influenced by a similar Indigenous game named Marn Grook, possibly making Australian Football one of the oldest football codes in the world, though it is not known how long the game was played for before Europeans arrived and documented it. The current professional competition and dominant governing body, the Australian Football League, grew out of the former Victorian Football League, changing its name in 1990 after it expanded into other states. AFL games have the fourth highest average attendances in the world for an outdoor professional sports league. Australia is currently the only nation where Australian Football is played professionally, though the number of foreign and multicultural players is slowly growing.



The Story of Women's Football

The earliest records of women playing football were in Western Australia in the late 1910s and there was at least one women's football side in Perth called Foy & Gibson's. However, public attitudes prevented women from participating in organised football until after World War I when an exhibition match was held in Melbourne. Exhibition women's games also took place during World War II though there are no records of organised women's football occurring during this period.

The first organised women's football league was the Victorian Women's Football League which was formed in 1981 with four teams competing in the inaugural season. Today the VWFL has four senior women's leagues, and every state has a senior women's competition. In addition, many states now have Youth Girls competitions, and there is a senior women's and a Youth Girls national championships every year, though Victoria still dominates, having played football for the longest.



Strengths and Weaknesses

Though the players have varying experience in football, they have all grown up in a country where football is a major sport and even girls with no senior women's team experience will have played football at school. This will set them apart from the other teams where even the most experienced players might have grown up without any awareness of Australian Football and have only experienced football at their local team. Additionally, there are girls in the squad who are regulars with VWFL, SWAFL and WAWFL teams, and even the very best Irish and PNG girls will find it difficult to compete with this level of football. Other Australian states struggle to compete against Western Australia and New South Wales at the National Championships, and Victoria is another level above them.

Despite their superior skills and experience, the team has been hurriedly brought together and the players will have little time to meet each other and train together before they are sent to Sydney for their first game. This might be a chance for more prepared teams to strike and a little surprise might be all it takes to break apart the loose knit team of players who are not used to being "top players" at any level.

Additionally, many of the players are from much warmer climates, and though this might not be a problem in the Sydney stages, players from the desert or tropical regions will definitely be feeling the cold when the team moves to Melbourne to compete in the finals stages. Even more surprising, some of the girls from Northern Territories will not have played on grass ovals before, as they play in sand, and some of them play football barefoot and will not be used to wearing football boots. These seemingly obvious things take time to adjust to and these players might not be able to reach peak form in time to make an impact.

The coaching team is also a bit of a mystery. Chyloe Kurdas is an excellent coach who has played at the top level of women's football in Australia for many years. Through her experience as player and assistant coach at Melbourne University's VWFL team, she is no stranger to integrating often totally inexperienced Australian and foreign players into a working team, and it comes as no surprise that she has been selected to coach the AMI team. On the other hand, the head coach, Nova Peris, has no experience of playing football or coaching football, and it is very surprising, given the comparative number of female, Indigenous and Multicultural players and coaches in Australia, why they could not have chosen someone perhaps less famous, but more experienced, to lead what will be Australia's only representative team in this tournament.


Players to watch

Due to the last minute nature in which the squad was assembled, there has been little chance to compare individual players and see who stands out. However, though the players have varying levels of experience in football, considering the level difference between the Division 1 states (Vic, WA, Qld, SA) and Division 2 states (NSW, Tas, NT, ACT) at this year's Women's National Championships, players who are regulars in teams playing in the top women's leagues in the country are most likely to stand out:

There are two players from the VWFL: Eve Shao plays in the ruck for the St Kilda Sharks, a team renound for their tough style of play. The other player, Caroline Duffield, plays for Melbourne University, who play clean football and work well together as a team. The VWFL is the source of players for the Big V, a team which is unbeaten at the nationals and even the second best state, Western Australia, doesn't come close. Playing at this level every week, these two will definitely be the main worry for opposition teams.

There are also three players from Swan Districts WFC in the WAWFL: Melissa Headland, Charlene Humphries, and Deja Clanton. These girls will be used to playing alongside each other and may well be used to tactically provide a bit of backbone to a team of total strangers. Though WA does not produce the same football talent as Victoria, it is still a level beyond closest rivals Queensland and South Australia, so these three will almost certainly have some skills to show their team mates and opposition.


Form Guide and Bottom Line

If the team comes together it is highly unlikely that the other teams, even favourites Ireland and PNG, will be able to defeat them. However, given the variety of experience that this team presents, added to the novel pressure of being in the spotlight, there's a good possibility that it will take them a while to hit top form, even with the coaching of Chyloe Kurdas. If this is the case, there is a real chance that the talented Irish players, many of whom are expats playing in Australian leagues themselves, or the fast paced pure talent of the PNG team, internationally experienced and unafraid of Australian competition, will give them a shock that they will have been brought up not to expect - that people born and brought up in a foreign country can play Aussie Rules Football on a par with the Australians.