First internationally staged AFL Premiership Game bound for NZ?
Tuesday, March 06 2012 @ 08:54 pm ACDT
Contributed by: Rod Shaw
Views: 4,999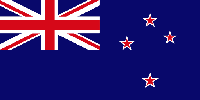 The prospect of the first AFL home-and-away game played outside Australia could become a reality as early as next season, with St Kilda reportedly pushing to play up to four games a season in New Zealand.

The Saints on their website confirm this possibility "The St Kilda Football Club is in preliminary discussions with the AFL about the expansion of the game in New Zealand and the role the Saints may play. With the recent inclusion of AFL as a sanctioned sport in schools in New Zealand, the Saints would like to develop the game further through engagement with the community. The Saints also see an opportunity to build player talent pathways for local talent to play AFL and potentially play games for Premiership points in Wellington in the future. The Wellington Stadium, affectionately known to Kiwis as "The Cake Tin" is an excellent venue.

Having personally had the opportunity to be involved in all 3 pre-season games played in Wellington, firstly at the iconic Basin Reserve and followed by two matches at the Stadium I can only applaud this initiative and state that in all respects it is a wonderful surface and arena for AFL football. It is well and truly time for a truly meaningful game to be played in New Zealand. The opportunity for the Saints to play the legendary football thinker Kevin Sheedy's Greater Western Sydney Giants on Anzac Day should excite both footy fanatics and interested observers equally.

Given that GWS are likely to play in front of about 10,000 spectators in their first year at home I would think that there is the likelihood of at least that many coming through the gates in Wellington. This appears a reasonable estimate given that the pre-season games about a decade ago had crowds of around 6000-8000 from memory.

AFL chief Andrew Demetriou confirmed that St Kilda had met the league's acting game development chief, Andrew Dillon, regarding the New Zealand push, which is understood to have been heavily driven by the Saints' new head of football, Chris Pelchen.

Pelchen was accompanied by St Kilda chief executive Michael Nettlefold and chief operating officer Terry Dillon in a trip to New Zealand in January during the tour by the Australian rules AIS under-18 team. The key Saints trio is believed to have held a series of meetings with Wellington-based stakeholders and toured the stadium.

The New Zealand push would provide one solution to St Kilda's financial woes, partly brought about by its unsatisfactory arrangement with Etihad Stadium. Under the AFL's model for selling home games, the prospect of four home games in Wellington could reap the club an extra $1.5 million a year.

Interestingly Pelchen, who joined the Saints late last season, worked hard to promote a presence in New Zealand during his previous recruiting role at Hawthorn. A New Zealand scholarship scheme was established in the name of Kiwi-born Trent Croad, with the Hawks also launching the junior Auskick-style program Kiwikick. Three of the four New Zealand Hawthorn scholarship holders were chosen by Pelchen, one of whom - Kurt Heatherley - has moved to Melbourne and is doing his VCE at Caulfield Grammar.

Certainly the grounds for such a move as St Kilda are considering making is far more fertile in terms of creating a footy culture as a result of the Hawks' commitment to developing NZ football. That said, it has never been an arrangement with sole rights to a potential four million plus market for Hawthorn. In some respects it can be likened to North Melbourne moving games to Hobart whilst Hawthorn continues their long term involvement in the north of Tasmania based at Launceston. A piggyback arrangement where initial loyalty in both markets may be Hawthorn's but the resultant development for the AFL Clubs may be shared with others.

While Hawthorn has continued to push both its community and scholarship development across the Tasman, the Hawks have not approached the AFL regarding the prospect of playing matches for premiership points in New Zealand, having signed a new agreement with the Tasmanian government in late 2010.

It seems a lost opportunity in some respects for the Hawks if the Saints grab the initiative but it is understandable given the membership base they already must support in their two key markets of Melbourne and Tasmania. It will not be a lost opportunity however for the AFL code in NZ which has continued to progress systematically since the appointment of the NZ AFL Board (now AFL NZ) in 1998 when the AFL finally started to realise football was played outside of Australia and provided some meaningful assistance.


For more: Saints eye Kiwi matches and St Kilda keen to play AFL at Westpac Stadium