Slavonski Brod Tigers set to roar in Croatia
Monday, February 10 2014 @ 10:41 pm ACDT
Contributed by: Wesley Hull
Views: 4,610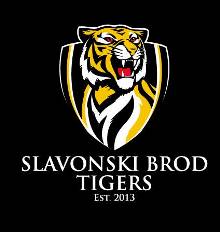 Tomislav Vlaović is the current president of the newly founded Aussie Rules club, the Slavonski Brod Tigers, from Croatia. Hot on the heels of the current drive in Croatia to have a full sized field built at the Zagreb University, the Tigers represent another compelling piece of evidence that Croatian footy is growing.
Following is Tomislav's story about his own background and that of the Slavonski Brod Tigers, who will lock horns with the Zagreb Hawks, Zaprude Giants, Velika Gorika Dockers and their Austrian brothers the Styrian DownUnderDogs.
"I was born and raised in Melbourne until the age of 14 when my family and I permanently moved to Croatia to live. I always preferred [Australian Rules]footy to soccer because simply footy is more dynamic and attractive to play. Where every player is ready to cross that line of no return, where there are no calculations. Where a Collingwood supporter can sit next to a Carlton supporter and not panic. That's why I love this game."
The club was founded by Luka Đukic and Zvonimir Marinović, both originally from Slavonski Brod. They both were in involved in footy while studying in Zagreb. After Luka finished his studies, he returned to Slavonski Brod and together with Zvonimir they decided on founding a new footy club. Once you're hooked there's no looking back, that's just footy! Without them, there would be no club. Luka has taken over as the main coach and Zvonimir as the Vice president."
"They named the club after the Richmond Tigers mainly to honour Ivan Maric who became the Croatian Ambassador for Aussie rules in 2013."
"Our main problems are jumpers and playing grounds. We have tried to contact the Richmond FC regarding old/spare jumpers that they could donate to us, but have no official response till now."
Playing grounds are a problem for all clubs in Croatia. Aussie Rules is not a recognized sport in Croatia so we have little or no funding at all. The SANH (Aussie Rules union of Croatia) have initiated a program called "Field of Dreams" in order to build the first Aussie Rules ground in Eastern Europe. The idea is fantastic and would mean a lot to all the boys playing footy in Croatia. It would be the first step of Aussie rules becoming a serious sport in the eyes of all Croatians."
"I joined the club a bit later, partly because I live around 50 kilometres from Slavonski Brod and had no idea that a new club was founded. I can't describe the joy when I discovered that a footy club was founded nearby and that I could finally play footy again after 19 long years."
The demand has been pretty good so far, there are around 14 of us that regularly train. Given the fact that besides Luka, Zvonimir and I, no one actually knew what footy is and never even seen some footage of a match, the guys are giving it the best and some have even potential to become Croatian national players."
It will be very interesting to see how the Tigers develop, but it seems there is still a supply of interested talent finding the game and ensuring the continued growth of the game in the country. World Footy News will stay on top of their progress and hopefully have great things to report in the not too distant future.
Anybody interested in contacting the club for more information can go to their website at: http://brodtigers.wix.com/brodtigers or contact them on Facebook at https://www.facebook.com/brodtigers