Round 1 Summary - No surprises
Monday, August 11 2014 @ 01:08 am ACST
Contributed by: Brett Northey
Views: 3,221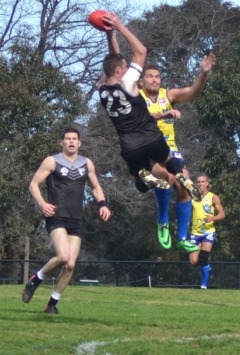 A cold, at times wet day in the parklands of Melbourne, some crisp clean footy but also some cobwebs, some awkward players that look new to the game but still ploughing into danger, slightly barren fields at the end of winter, football field markings painted over the lines of other sports, a modest but passionate crowd, displays of skill that leave passers-by surprised and exclaiming they didn't know Aussie Rules was played in country xyz, colourful flags and dedicated volunteers shuffling around treating injured players, running drinks and trying to coordinate 24 teams of footballers. It must be the latest instalment of the International Cup.
Yes the 2014 AFL International Cup is well underway with Round 1 now complete. Today saw the welcome debut of Indonesia and Pakistan in the Men's competition, and Fiji and Tonga in the Women's, as well as the development Canada and USA teams.
Despite all the changes that can occur in three years in many ways there were no surprises on day one.
All the matches went as most experienced Cup watchers would've predicted. There were some massive margins and it would've been nice to see the dominant sides take their foot off, but their places in the semi-finals or Division 1 will, in many cases, come down to percentage, so no mercy can be expected when playing for their country and generally at great personal expense.
The biggest hammerings were in the Men's Pool C, where New Zealand didn't allow the Swedes to score (alas the Elks don't seem to have improved since IC11 and paid a heavy price), the United States were ruthless and very efficient in front of goal against Finland, showing they just might be genuine contenders, at least for top 4, and Canada wore down a brave but inexperienced China.
But there was no shortage of pain in pools A and B on what was a day of battlers against the big guns. Indonesia's players were feisty and fast and plenty showed they knew how to play footy, but their bigger bodied opponents in Nauru increasingly realised they could bust straight through the Garuda tackles and impressively powered to the biggest score of the day, a whopping 35.21 (231). At least Indonesia did get on the board, scoring 1.1 (7). Like Indonesia, Pakistan also battled hard on debut and made the South Africans look erratic and fumbly early but the Lions settled to completely blow away the Shaheens in the second half.
Great Britain looked to be locked into a tight tussle with France with scrappy play disappointing, perhaps the small ovals preventing clear room to move. Playing together rarely also restricts the early flow of teams and as the game progressed the difference in ability began to become apparent and 82 points in the end was a significant margin.
Not so tight was Japan vs PNG, one of the tournament favourites. Yet again early on the Mozzies were held close, but eventually found their rhythm and their speed and skill resulting in a 157 point demolition. Although Japan have a solid league and proud history they are now falling well off the pace of the top teams.
One of the smaller nations, Tonga, monstered one of the biggest, India, in their match. 160 points was a tough margin for India who would've been hoping for better given a number of players with experience in local football in Melbourne. Footy development is in its infancy on the sub-continent so perhaps they'll memory bank that one for 2017 or 2020.
Maybe the most interesting Men's encounter was Fiji serving it up to Ireland. The islanders were typically fierce and hunted the Warriors who probably felt there was some undue targetting. It did seem to pay dividends as the Cup favourites rarely got their flowing skill game going and were well held for a 45 point win. This could prove decisive if Ireland drop a game (Nauru the one to watch) and need to rely on percentage to scrape into the 4th spot for the semi-finals. Indeed it now seems likely Ireland can't afford to drop a game this tournament if they are to win it. No pressure.
The Women's matches tend to be less fast paced and lower scoring so the blow outs were always going to be smaller. No shock when Ireland beat newcomers Fiji by 61 points, Canada showed impressive depth to have their development squad the Midnight Suns too good for debutantes Tonga, and to prove the point Canada's Northern Lights beat the USA Freedom by 54 in what most probably expected would be a tight encounter. USA Liberty, the American's development squad, had the bye.
In summary of the Men's competition, the favourites are all safely on the board, Fiji looks like they will build on their 2011 second division title and might cause some grief for those just off the top few, and Indonesia and Pakistan have debuted with matches that were no worse than the first up efforts of many nations in the past and can hold their heads high. In the Women's we welcome Tonga and Fiji, but already it looks a race in two between the champs Ireland and last Cup's runners up Canada Northern Lights, who seem to have increased their lead over the USA Freedom and boast impressive depth across both their sides.
Expect a much tighter round of matches when the Cup resumes on Wednesday again at Royal Park (mostly), with most matches featuring teams ranked more closely. Although one fears that PNG vs India and New Zealand vs China could see 300 points reached if the weather is good and the mood ruthless. Will the AFL ever bite the bullet and start the tournament with separate divisions? It would save a lot of dashed spirits and less than inspiring one-sided matches.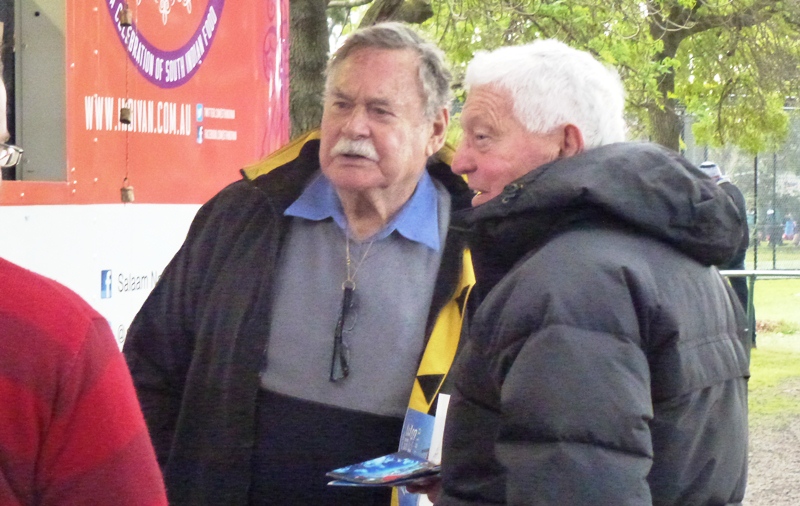 Familiar faces - Barassi and Dixon