2017 International Cup eligibility rules to change
Wednesday, February 08 2017 @ 02:59 pm ACDT
Contributed by: Troy Thompson
Views: 3,102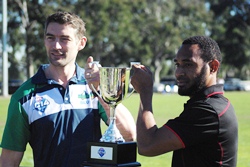 There has been an adjustment to the eligibility rules for the 2017 AFL International Cup. There has been extensive consultation with competing nations following IC14 and lengthy consideration given to whether eligibility rules should be changed.
At IC14 some nations felt that other countries had a large advantage in having many players that were located in Australia and playing in the lead up to the tournament (some for multiple years),
The new rules do not actually impose any new restrictions on individuals but rather ensure that no country's squad is completely dominated by Australian based players.
Expatriate Australians of course are ineligible to play in the International Cup as in previous years.
A player qualifies for their country by being a citizen and by having lived predominantly in that country between the ages of 10 and 16. The rules allow the AFL to grant exceptions to the eligibility criteria on a case-by-case basis if it is satisfied that the player is a bona fide resident of the country concerned, and that "his/her participation would be in the best interests of the competition".

The new rules are to be applied as follows;
"Each squad must have no more than 12 players who are based in Australia at the time of submitting team lists and that of those 12 players, the squad has no more than 3 players who have played Australian Football for 5 or more consecutive years in Australia (including the 2017 season) leading into IC17."