Schools Round kicks off tomorrow
Tuesday, August 08 2017 @ 09:15 am ACST
Contributed by: Troy Thompson
Views: 2,521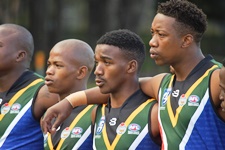 The innovative Schools Round (Round 2) makes its International Cup debut tomorrow.  The AFL has confirmed that these games are all open to the public.
Teams will play at schools in Melbourne and surrounding suburbs and in Ballarat. This will be a fantastic opportunity for all the schools and students involved as well as all the teams.
Please note there are some time changes to matches from those initially advertised (see below).
In Division 1 Ireland are favourites to defeat France at St Pat's in Ballarat and across town at Mt Clear PNG and Nauru will be looking to get their tournaments back on track after losses on Sunday.
I think all the other Division 1 games could go either way.  The USA will be looking to go 2-0 against South Africa at Wesley College but the South Africans will be sure to improve on their losing performance on Sunday. Great Britain were fantastic beating South Africa on Sunday but can they back it up against Canada at St Francis Xavierω 
And New Zealand are powering along, but Fiji are firing and if their skill can match their athletic ability they could just pull off an upset.  This is the only game not being played at a school, Linen House is the training base of St Kilda in Seaford.

More details on the fixture can be seen here.
In Division 2 I expect Japan to defeat Pakistan, China to defeat Sri Lanka, Germany to defeat India and Croatia vs Indonesia to be the only toss of the coin.  To avoid sitting on the fence I will say Croatia to get up, assuming they are better for the run on Sunday despite their loss.
In the Women's Division I expect Canada to defeat Pakistan, Ireland to defeat European Crusaders, USA to defeat PNG and Fiji and Great Britain to be match of the round.   Given Fiji pushed Canada to extra time, they have to go in as favourites.