Dragonslayers and Banshees Take Euro Titles
Monday, July 01 2019 @ 11:22 pm ACST
Contributed by: Wesley Hull
Views: 1,137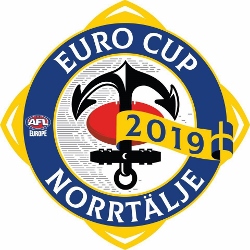 The 2019 Euro Cup, held in Norrtalje, Sweden on the weekend, crowned the England Dragonslayers as the men's champions and once again the Irish Banshees as women's champions. The tournament is the showcase of European Aussie Rules, and the standard of matches across the day upheld that status.
For the Dragonslayers, this was their fifth Euro Cup win after back to back titles in Prague (2008) and Samobor (2009, Croatia), Bordeaux in 2013 and 2017. This was also the fourth title for the Irish Banshees, including a back-to-back performance after winning last year in Cork.
The men's draw saw the traditional powerbrokers – England, Ireland, Croatia and Germany – joined by France, Wales, Scotland, Netherlands and host nation Sweden. But the most compelling aspect of the draw was the growing number of developing nations with Austria, Switzerland, Finland, Russia, Poland, Czech Republic and Israel each sending teams.
Austria, Switzerland, Russia and Israel impressed with multiple wins during the tournament. The Czech Republic and Finland also recorded victories. The Swiss Heidi's would have been delighted to come away from the women's draw with a win against the Croatian Queens at their first Euro Cup.
The women's draw saw teams from Ireland, England, Germany, France, Wales, Croatia and Scotland returning to the event along with first-timers Switzerland.
In the men's draw, the host nation Sweden took out the Men's Bowl Final when they downed Croatia 25 to 15. The Men's Plate Final was won by Scotland when they downed Russia 30 to 13. The French Gauloises took out the Women's Bowl Final when they defeated the Welsh Wyverns 29 to 15.
The final standings for both draws as follows:
MEN'S Draw –
1. England Dragonslayers
2. Irish Warriors
3. German Eagles
4. French Coqs
5. Swedish Elks (Bowl)
6. Croatian Knights
7. Welsh Red Dragons
8. Netherlands Flying Dutchmen
9. Scottish Clansmen (Plate)
10. Russian Bears
11. Swiss Wolves
12. Czech Republic Dragons
13. Israeli Beasts
14. Finland Icebreakers
15. Austrian Avalanche
16. Polish Devils
WOMEN'S Draw –
1. Irish Banshees
2. England Vixens
3. German Eagles
4. Swedish Ravens
5. France Gauloises (Bowl)
6. Wales Wyverns
7. Swiss Heidi's
8. Croatian Queens
For all match results for both Men's and Women's draws, including round matches and finals, visit the AFL Europe Facebook page at:
https://www.facebook.com/AFL.Europe.Ltd/
Tournament previews and a full review of the tournament will soon be available on the AFL Europe website at:
https://afleurope.org/