North Fremantle International Australian Rules Football Tour
Tuesday, October 26 2004 @ 11:43 pm ACST
Contributed by: Brett Northey
Views: 8,518

The North Fremantle Amateur Football Club are in the final stages of a remarkable World Tour. A large party of players and officials have visited the United Kingdom, Ireland and the United States, in a great initiative that exposes their young men to different cultures, whilst also giving them the rare chance to play teams from other countries. No doubt many more Australian Rules football clubs will follow their lead in years to come, as the game continues to grow outside of Australia, and clubs think about developing their players as both footballers and well rounded individuals. Details of who they played and how they fared follows.
The North Fremantle Amateur Football Club are a strong side in the Western Australian Amateur Football League. They compete in A, A Reserves, A3 and A4, as well as fielding an A Grade Colts side (under 19). The club has previously toured Ireland (1988) and travelled to Singapore and Malaysia, playing the mainly expatriate Australian sides. This year the touring party consisted of 38 people, 25 of them players, mainly young men from their Colts side. The tour was organised by club life members Baden Pratt and Peter Grosser, and North Fremantle managed to raise AU$40,000 towards their adventure, with the rest paid for by the travellers themselves. Their specially printed tour Guernseys are shown below.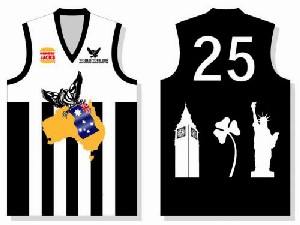 First up they defeated the London Barbarians, a composite team of local players, presumably from the BARFL.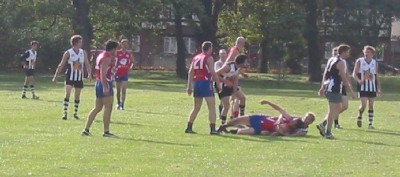 The second leg of their tour took them to County Cork in Ireland. They played an International Rules match against a local side. Again the West Aussie team had a win.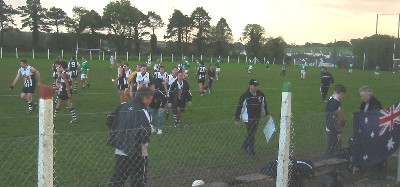 North Freo then spent five days in New York, before crossing the US to play a Californian side, with players mainly drawn from the strong Orange County and San Diego clubs, plus one player coming in from Arizona. Unfortunately, after a long season and the US Nationals, many of the better players seemed to have hung up their boots for the year. On the positive side, the California Bears side "put on the paddock" was mainly American players, getting a great opportunity to play against a top quality outfit. California donned St Kilda jumpers (teams pictured below), as no official Bears strip has been created yet. The exact score isn't known, but the Aussie side ran out big winners, by around 17 goals. They impressed in all facets of footy - with their endurance, speed, and perhaps surprisingly for a young side, in the more physical aspect. From all reports a strong relationship may emerge between North Fremantle and Californian footy. Hopefully one day the Americans can make the big trip Down-Under. In a nice touch, the West Aussie side also presented their hosts with a book on the long history of the game in Western Australia.

The four week tour concludes with the boys attending the Melbourne Cup, before returning home to WA. Thanks to North Fremantle President Gary Hasler and the
OC Bombers'
Chris McNeil in helping to compile this story.