AFL Recreational Football
Sunday, September 04 2005 @ 12:37 am ACST
Contributed by: Brett Northey
Views: 8,723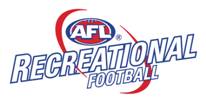 Over the past couple of decades traditional sports in Australia like Aussie Rules have found themselves in competition with new non-contact games like touch football (effectively touch Rugby). Social games such as that aren't likely to threaten the mass appeal of Australian football at the highest level, but they can undermine player numbers. As more people play them, particularly enjoying the flexibility of shorter games on weeknights in mixed sex environments, there can be a slow leak of numbers from traditional sports. Furthermore the players and their families become more familiar with related sports such as Rugby Union. The AFL's answer is Recreational Football.
There is plenty of anecdotal evidence that with touch football growing in popularity, a new generation are gaining an interest in the Rugby codes. Other competitors include indoor soccer and Ultimate frisbee. This isn't disasterous for Aussie Rules, but long term the game obviously needs to develop its own social product that appeals to a larger section of the community than the traditional market of 10 - 35 year old men happy with full contact sport.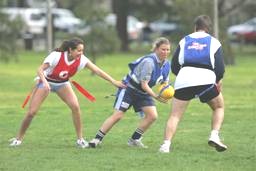 The AFL website explains how Recreational Football came about:

The Carter Report titled "Investing in the Future of Australian Football (October 2001)", identified segment gaps in Australian Football and its demographic reach. The research found that Australian Football did not have a recreational version of the game to cater for the growing recreational participation market and hence, AFL Recreational Football was developed.
First launched in 2004, it was quickly embraced in Western Australia and Victoria, but it didn't get off the ground elsewhere. The official 2004 census of player numbers in Australia, for all forms of Aussie Rules, found 592 people participated in Rec Football in its first year - a good start, and the AFL and state leagues appear keen to spread the game wider.
The second season is in summer 2005/06. Josh Vanderloo, from the SANFL, is responsible for getting the game started in South Australia, and says several initiatives will be employed, including a celebrity match during the AFL finals. The plan is to have four leagues spread across Adelaide, including at AAMI Stadium's training grounds and Norwood Oval (see story on demonstration match there).
The basic rules are 8 players per side, with unlimited interchange. The field is divided into 3 - the forwards at each end and a mid zone. Only forwards can score, and it must be from a mark, which stops players bombing goals and the games having no structure. A player is dispossessed when a 'flag' is removed from them. The flags are attached to the players' waists and is a concept like flag football in the US. There is also a turnover if the ball hits the ground - that seems to be the biggest worry for the game, particularly when seeking new participants, as a reasonable degree of skill is required. Fields are to be no more than 100m long, and the game played in two 20 minute halves. As numbers grow, male, female and mixed competitions are likely.
All the details can be found at the AFL's Recreational Football site. Anyone in Australia thinking of entering a team or just curious should email or phone the respective contact in their state. Hopefully it will become another asset in footy developing in new areas and maintaining its strength in the traditional football states. Of course the concept is not new to some internationally, with 9-a-side football commonly used when numbers or large fields are lacking, especially in the US where it is commonly referred to as metro footy. In this new initiative, it is firmly a non-contact sport, whereas outside Australia a variety of versions exist. Maybe one day we'll not only see an Australian Football International Cup, but maybe a Recreational Footy International Cup too.