Convicts aim to tour South America in 2006
Tuesday, September 13 2005 @ 02:48 am ACST
Contributed by: Anonymous
Views: 2,737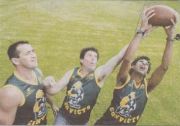 After their successful tour of South Africa in February 2005, the Convicts are set to do it all again in South America in February 2006. The Convicts Tour will feature two matches in Buenos Aires against the Argentine national team in what will be the first ever match between Australian and South American teams. The tour also includes sightseeing in Chile, Uruguay and Brazil, including a visit to Rio de Janeiro.
The tour is open to any Amateur player or official with a passion to promote our great game to the rest of the world. For further details and itinerary visit www.theconvicts.com.

Note that the 2005 European trip was cancelled due to the uncertainty after the London bombings.