New Zealand versus South Africa in under 16s
Monday, October 02 2006 @ 09:10 pm ACST
Contributed by: Brett Northey
Views: 4,575

| | |
| --- | --- |
| | The first results are in from the Barassi Youth Tournament. Of particular interest to readers of WFN will be the form of South Africa and New Zealand. The African program is the one receiving more AFL funding in recent times, although the Kiwis are still one of the better supported countries. |
On Sunday 1st October the South Africans took on New Zealand in the under 16s tournament. We don't have all the details yet as to whether the respective teams are the best their countries had available, but the Kiwis certainly came out on top in this contest, winning by 64 points. Nauru was a late withdrawal, as was suspected and planned for by organisers.
In the other two matches, Kormilda (from Australia's Outback state, the Northern Territory) defeated ACT Gold by 27 points, and ACT Blue beat a selection from Western Australia's Kimberley region by 36 points. It will be interesting to see how the international youngsters go against the non-elite (but certainly good quality) Australian teams.
Final scores:

South Africa 2.2 (14)
New Zealand 11.12 (78)

Goalkickers:
NZ: Shaun Johnson, Michael Boyce 2, Isaac O'Connor, Mike Wills, Jason Woodward, Johan Timmer, Chris Winks, Kura Lalager 1
SA: Abueng Senyadio, Gabriel Strydom 1

Kormilda 10.5 (65)
ACT Gold 6.2 (38)

ACT Blue 13.9 (87)
Kimberley 8.3 (51)

Details from Barassi Youth Tournament.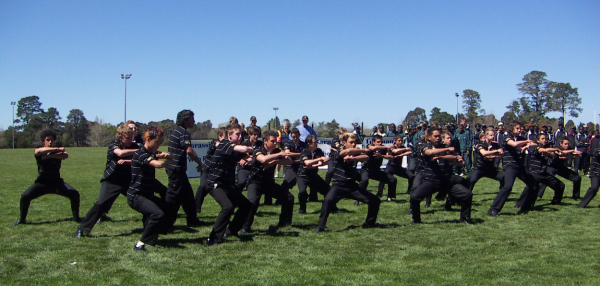 New Zealand do the Haka