Highlights of international Australian Football in 2008 - footy's biggest year yet
Tuesday, January 06 2009 @ 08:02 am ACDT
Contributed by: Brett Northey
Views: 3,845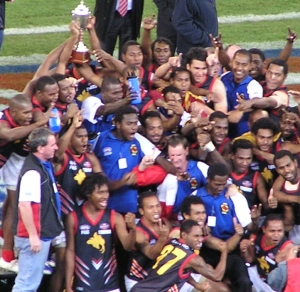 2008 has come to an end and it must surely be regarded as the most successful yet for the growth of Australian Football.
The stand-out event was the 2008 Australian Football International Cup. 16 full sides plus an appearance by Tonga in the Multicultural Challenge meant there was easily a record number of teams and players. The Israel-Palestine Peace Team grabbed most of the headlines and it was terrific to see so much attention, but in purely football terms perhaps the arrival of China and India was the biggest news. The semi-finals being played under lights in Warrnambool were a huge success (though better lighting and an extra 10 degrees warmth would've been appreciated), with the football an excellent standard, only to be bettered in the Grand Final which saw sentimental favourite PNG win after two previous grand final losses, with New Zealand gallant in narrow defeat. The event also saw an International Forum between the AFL and many countries.
Many of the highlights were things we'd previewed in the 2007 review (see 2008 set to outshine a stellar 2007 - part one and part two). It's amazing just how many good news football stories there were across 2008. All countries probably have positive news to report so selecting just a few is fraught with danger, but here is a summary with a few stand-outs.
South Africa went from strength to strength, both on the field and in sheer numbers (now approaching 20,000). Expansion from two to four provinces was a success, Fremantle played Carlton in an exhibition match, the national side (newly named the Lions) rose to third at IC08 and several players had guest runs in the Western Australian Football League (Reserves and Under 18s). AFL South Africa also staged its first nationals in the new era of footy there, and they again hosted AIS and Indigenous tours.
Papua New Guinea kept kicking goals. Besides winning the IC08, they also had John James become their first representative in Queensland's under 18's and he also had a successful first season in AFL Queensland's top league.
The Brits changed named to AFL Britain and there were some signs of a thawing between them and Aussie Rules UK, which successfully sent a junior team to Australia. An English development squad won the 9-a-side EU Cup, which itself has shown good growth in the number of participating countries. The live streaming of games on the internet was a prominent feature.
The biggest gains in Europe appeared to be in France with several new clubs and the staging of the Coupe de France, Finland making the big effort to get to IC08, the growth of Swedish footy, the initial bursts of activity in new footballing nations such as Andorra and the strong showing of Croatia at the EU Cup.
Some progress was made toward creating the long overdue AFL Europe (or some form of European organisation), though nothing was finalised. The new AFL Middle East and AFL Oceania had greater success, with the latter being established by the AFL with Andrew Cadzow in charge and immediately moving to survey, and in some cases support, relevant nations.
It was in Oceania that the search for AFL talent took another step with the Western Bulldogs holding trials in Fiji, concluding with the inaugural use of the new AFL International Scholarship Lists, with two locals signed up. They weren't alone in their island search, see Tigers search Samoa for 'international rookie', though it appears that has not yet yielded a result.
We saw some stirrings in South America, with the notionally more established Argentina going down to Chile in an historic first international match for South America.
As mentioned, Asia saw the first true arrival of potential giants in China and India. The Chinese appear slightly ahead, with one of the best breakthroughs being the commencement of work on an Aussie Rules oval in Tianjin. Youth development in Suzhou was also promising. Asian footy continued to grow elsewhere, with more junior development in Indonesia, and with the Asian Championships. Though mainly involving expat-Aussies, they continue to become more established and for the first time included an Under 16s competition.
The United States had more of a consolidation year, and slid slightly on the field relative to its peers. There was also the disappointment that the Florida venue that some had hoped would become a regular option for big footy matches has proven to be more expensive to use than first thought. It wasn't all bad, with some further college progress, increased AFL coverage on Setanta was welcome, and there was some growth such as Columbus debuting.
Canada was more upbeat, having a side take out the US Nationals Division One, sending a junior squad to Australia, and the emergence of the Quebec Saints and Laval Bombers.
Other countries not normally associated with Aussie Rules that we began to hear a little more about included Andorra, Norway, Turkey, Zimbabwe, Chile, Vanuatu, East Timor and New Caledonia.
It wasn't all good news, with the Barassi Youth Tournament cancelled, at least for 2008. It was always a big ask in an International Cup year, plus to be honest being staged in Canberra is not a strong drawcard. Better youth news came later in the year with the suggestion that AFL Oceania may stage a Junior Oceania Cup in 2009.
Another high point is that there are now 14 internationals on AFL lists, with a former Canadian Rugby player and the two Fijians joining the growing numbers of Irish Gaelic football and hurling players (and news emerged of player manager Ricky Nixon's Irish recruitment drive). And despite that the GAA allowed the resumption of International Rules Tests, with further softening of the tackle rules and a cap on the number of successive handballs. Ireland triumphed in both the Tests. There was also an Australian Amateurs Under 23 tour of Ireland which hopefully will one day include Aussie Rules not just International Rules.
Domestically the AFL year was expected to see Geelong go back to back but Hawthorn upset those plans. The pre-season started with Adelaide versus Collingwood in Dubai as the AFL flirted with more international matches. The League was also very bullish about the possibility of new clubs on the Gold Coast (Queensland) and in Western Sydney, though the year finished with the GC not yet confirmed and a few signs of caution regarding Sydney expansion due to the global financial crisis. That too led to the cancellation of the upcoming NAB Cup opener being staged in Cape Town, South Africa, instead being moved back to Australia. That match was a likely highlight for 2009 but instead became a low-light. On the issue of expansion, Tasmania appears to have demonstrated it is ready for a license whenever one becomes available.
The AFL season consistently returned to the theme of celebrating 150 years since the notional first recorded game of Australian football. The League appeared to make a genuine effort to make it clear what the 150 years was marking, though commentators on AFL matches were still heard to say things such as "150 years of Victorian football" (a narrow definition) or "150 years of the VFL/AFL" (completely wrong since even the VFA from which the VFL split only formed in 1877).
The feature point of the celebrations was Victoria versus the so-called Dream Team, made up of everyone else. There was a strong push to allow each state to participate in a true return to State of Origin, but a fit to suit everyone could not be found leaving the controversial one match solution. Whether it was lack of passion for the one-off Dream Team concept or simply being outplayed, the Dream Team did little to justify the State of Origin call as they lost comfortably to the Big V, with both sides missing a host of stars due to injury.
In Australian state league news the SANFL defeated the VFL to retain the title in the three way series that also includes the WAFL, which easily defeated the Queenslanders in its interstate match. Better news for AFL Queensland was confirmation of the admission of a Northern Territory side into their league for 2009.
Overall a very successful year internationally and one that will be hard to match in 2009, especially given it is not an International Cup year and given the global financial crisis. But hopefully the majority of programs around the world are stable enough to ride out the storm. Feel free to sign in and add (comment) your highlights for international footy in 2008.