Debate - World footy rankings 2008 - the Irish question
Thursday, December 18 2008 @ 07:51 am ACDT
Contributed by: Brett Northey
Views: 5,275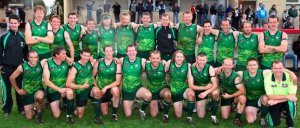 In Debate - World footy rankings 2008 - Peace Team, Great Britain and Catalonia we began the debate towards a set of World Rankings for 2008.
In today's article we ponder the status of Ireland's AFL players.
So what about the Irish players? Ireland finished fourth at the 2008 Australian Football International Cup, but they did not have access to their professional players on AFL lists. At this stage of the game's evolution it was not realistic to expect that they would be made available, and whether they should have is not the purpose of this debate. The question is whether they should be included when pondering a world ranking system. Should the rankings only reflect matches played, or should it consider the strongest nations in terms of the teams they theoretically could put on the field, given their professional players too?
In 2008 there were four Irishmen playing regularly in the AFL - Tadhg Kennelly, Martin Clarke, Colm Begley and Setanta O'hAilpin, as well as the fully listed Aisake O'hAilpin a regular for Carlton's VFL feeder team, the Northern Bullants. On top of that were players like Pearce Hanley and Brendan Murphy on AFL rookie lists playing a tier lower. Given that Ireland have finished 1st, 4th and 4th in the three International Cups so far, a strong argument could be made that if the above seven players were added to the Warriors, they would quite possibly have won the tournament on every occasion.
But none of those players came through the Irish league - they were all head-hunted Gaelic football or hurling players in Ireland. Does that matter? Even more difficult - should our attempt at World Rankings assume only amateur players and only the form shown, not the theoretical possibilities if all players were available? One could go even further and imagine that if the best Gaelic footballers had swapped codes for an Australian Football World Cup, they would easily have made the final against Australia. That is going too far, as then one would have to consider athletes from all sports making the change.
So do we aim for the best Aussie Rules nations assuming all players available, or restrict it to purely amateur status? And if so, what about the Papua New Guinea players who are on scholarships to Queensland. Surely they have a role in the IC if available but would they fit an amateur criteria?
Where do we draw the line for world rankings?